Warm Gray Paint Colors: 11 foolproof Warm Gray paint shades perfect for your home handpicked by interior designers and paint experts! These are the most popular and universally flattering warm gray tones for interior walls from Benjamin Moore and Sherwin-Williams.
WARM GRAY PAINT COLORS
Traditionally considered cool, many gray paint colors have a certain warmth to them that help make a house feel cozy. Obviously, this is an attractive trait–we all want our houses to feel lovely and warm.
Warm gray tones have more beige in them than bluish-gray tones (see the best blue-gray paint colors here) and sometimes may also be considered "greige" or gray-beige.
Warm grays help create a cozy feeling in your home and will help make larger spaces seem more intimate.
*affiliate links have been used at no cost to you see my disclosure policy here.
While tan paint colors dominated the late 1990s and up to 2010, washed-out gray paint colors have become popular in the last ten years and continue to be on-trend–simply put, it's a classic that never goes out of style!
And while you may see a little more beige resurgence in the 2020s, light gray paint colors will always be in style because they are universally flattering!
Most people's only hesitation is if gray is too "cold." Well, there's an easy way to remedy that…pick a warm-hued gray paint! The following gray tones will make your home feel cozier, more welcoming, and might even help you relax more!
WARMISH GRAY PAINT SAMPLES
These 11 warm gray paint colors are universally flattering tones that will feel warm while also making the house feel airy and spacious. I've used a number of them personally in my house and you can see the pictures below.
I've also included what paint colors to use on the trim for these warm gray paints–warmer whites (SW Alabaster) or BM Simply White in lieu of cooler whites (SW Super White or BM decorators white).
HOW TO PICK THE RIGHT PAINT SHADE
The best way to figure out what shade of gray is the perfect one for your home is by getting samples. Only then will you know what undertones it draws out in your lighting conditions. I used to recommend going to the hardware store, buying a sample, painting it on poster board but there is now an easier way…CHECK OUT SAMPLIZE HERE!
Samplize will send you 12″x12″ paint samples that you peel and stick on your walls. At $5.99 a sample, it cheaper than my going to the paint store, buying samples, brushes, and poster boards. Plus, it's way EASIER and LESS MESSY!
Reasons Why I Love Samplize:
Less Mess and Clean-up
Color correct–they are a true representation of the colors because they are made with two coats of paint.
More affordable and time-friendly than buying samples/ making samples.
Samplize samples will arrive at your doorstep within 1-3 days from the time you order them! and of course easier and way less messy
Warm Gray Paint Shades from Sherwin-Williams

1. Sherwin-Williams Worldly Gray 7041
Worldly Gray is a lovely warm gray that looks stunning in bedrooms, living rooms, and even laundry rooms! It is a slightly taupey light gray that has a nice grounding overall feeling.
You can see that at its most concentrated, Wordly Gray has some slight green undertones. This contributes to it being slightly darker and moodier than Agreeable Gray. But both are fantastic choices.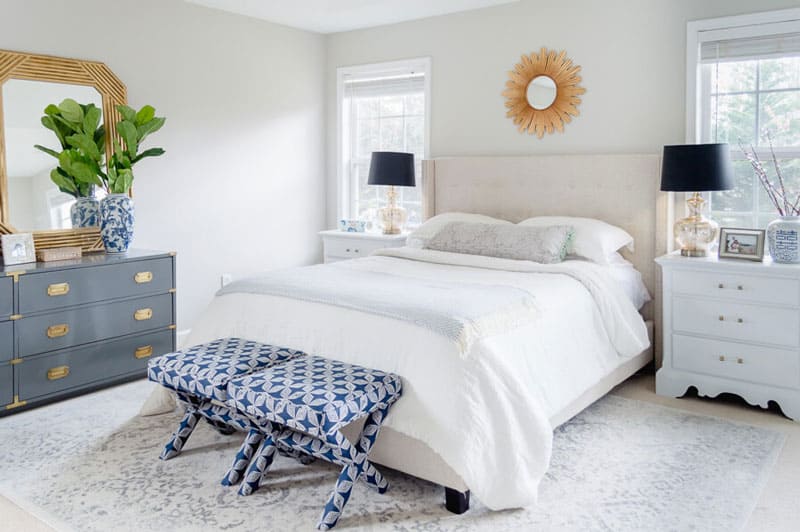 SW Agreeable Gray is a lovely true gray with a touch of warmth. It looks lovely in a variety of rooms from living rooms, dining rooms, and bedrooms. It is one of Sherwin Williams' most popular colors for good reason–it is a nice warm true gray that looks good everywhere!
To see a full analysis of the undertones see my review of SW 7029 Agreeable Gray here. But you can see the slightly brownish undertones above.
3. Sherwin-Williams Popular Gray 6071
Popular Gray like Agreeable Gray is a slightly warm gray paint tone with brown undertones. It is slightly lighter than Worldly Gray and Agreeable Gray as shown by its great LRV (light reflectance value).

Undertones: Slight brown and reddish undertones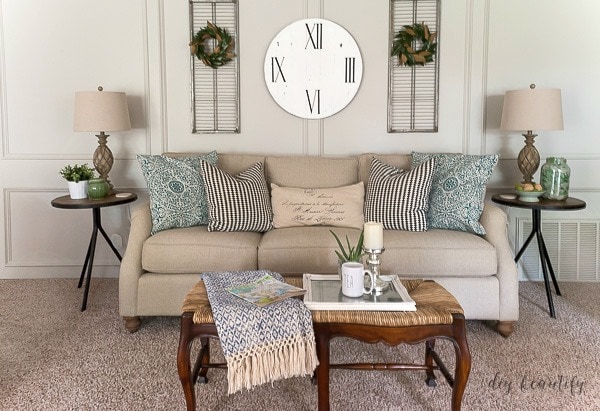 Comments: SW Repose Gray is a slightly bluer warm gray paint tone. You can see how it compares to Agreeable Gray above, which has a slightly warmer temperature. Nevertheless, it's still a fantastic warm gray paint color.

Undertones: Repose Gray undertones are bluer than Popular Gray and Agreeable Gray, but are still warm. See the brownish undertone with slight blue tones in the undertones below. See my complete analysis of Repose Gray and colors it goes with here.
5. Sherwin-Williams Colonnade Gray 7641
Comments: Colonnade Gray 7641 is a slightly darker warm gray paint tone. You can see that it has a different undertone profile than the colors shown above but is generally considered an almost "greige." There is a slight beige undertone but less brown than the other warm grays above. SW 7641 is a light-medium gray color and is darker than the paint colors listed above.

Undertones: Slight beige undertone. You can see that it has slightly brownish hints at the more saturated concentrations (to the left.)
Warm Gray Paint Shades from Benjamin-Moore
Benjamin Moore and Sherwin-Williams are both premium paint purveyors and their quality is evident in their color offerings and their paint products. Whichever one you prefer often comes down to proximity to your house (for me, BM is closest!) Hence, why I've provided the best warm gray paint tones from both brands.
BM Revere Pewter is one of Benjamin Moore's most popular gray paint colors for good reason. It's a versatile warm gray that looks good on interior walls in bedrooms, and even kitchens!
You can see the undertones of Revere Pewter below, but there is a slight greenish-brown undertone which contributes to its warmth.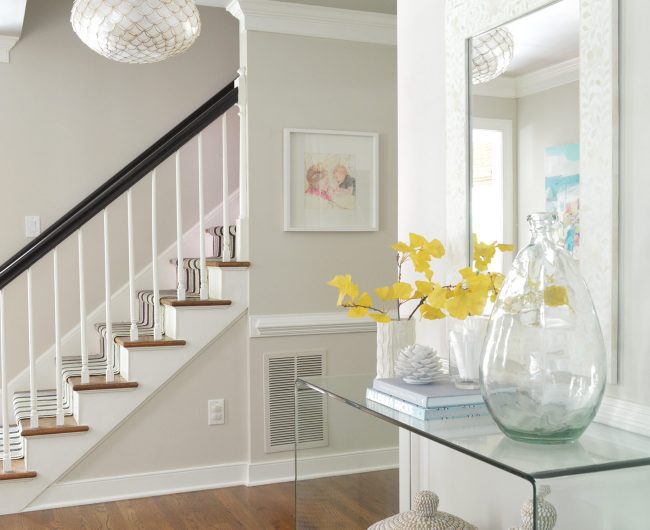 Another fabulous warm gray paint color, BM Edgecomb Gray is an up and coming color often outshined by Revere Pewter. Similar to Revere Pewter, Edgecomb Gray is significantly lighter with a much higher LRV of 63 (versus 55 of Revere Pewter)
Similar undertones of Revere Pewter but there is more yellow and less green than HC-172. See my complete review of BM Edgecomb Gray and its undertones here.
M Pale Oak OC-20 is a lovely pale gray paint color with a slight warmth. Lighter than Edgecomb Gray, Pale Oak is an airy warm gray paint.
Undertones: Less yellow and browner than Edgecomb Gray, Pale Oak is a warm light gray paint color.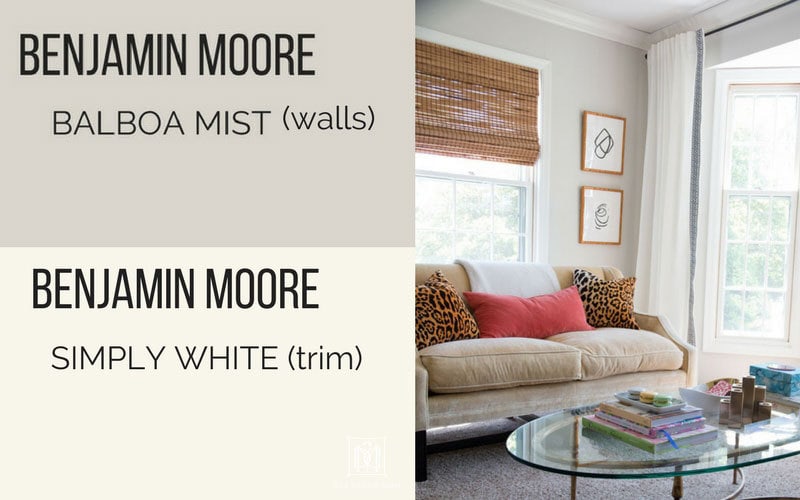 Comments: We have Balboa Mist in two of our rooms in our home–our dining room/ playroom and our living room. With warm Southern light exposure, Balboa Mist maintains its warmth and
Balboa Mist OC-27 is a lovely warm pale gray that is warm gray. You can see below that it has browner undertones instead of the yellow undertones listed above.
Comments: Classic Gray is a beautiful pale gray paint color with just a hint of warmth. If I had to paint my whole house one color, I would choose Classic Gray. It is slightly lighter than Balboa Mist.
Similar undertones as Balboa Mist, Classic Gray has an almost identical undertone analysis. It is slightly less warm and has the same brown undertones.
Chelsea Gray HC-168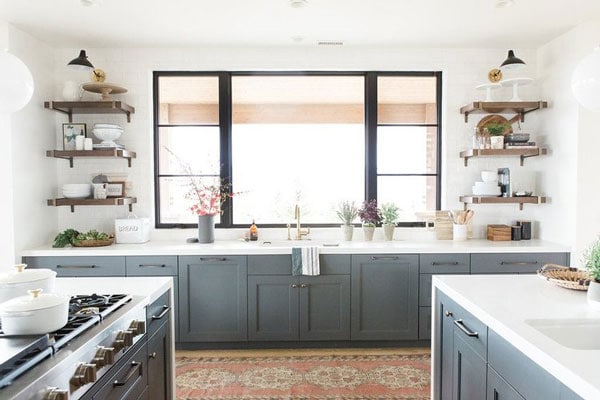 Chelsea Gray is a lovely dark warm gray paint color. If you want a cozy saturated gray, then consider Chelsea Gray. We used it in our previous kitchen and it was fantastic. It goes well with BM Simply White on trim.
Significantly darker than the other colors listed, Chelsea Gray is similarly warm. You can see the slightly green undertones below. Dark colors generally feel cozier, and Chelsea Gray is a prime example.

Warm vs. Cool Grays
What makes a color warm or cool?
In terms of colors, warm colors are red, orange, and yellow. Cool colors are blue, green, and purple. In terms of gray paint colors, you can see if a gray shade is warm or cool by examining its undertones. Does it have a slight yellowish undertone (or a lot of beige in it?) Or does it have a lot of blue in it?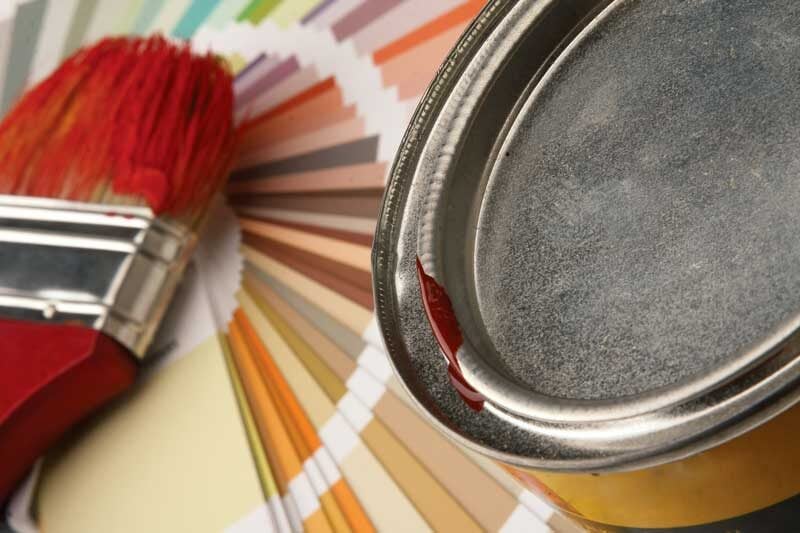 Warm paint colors are often associated with greater feelings of energy, but some (like red) can produce feelings of aggressiveness. Obviously, the small reddish and yellow undertones in these lovely grays will not do that!
Unlike blue tones, which can sometimes cause feelings of sadness and depression, these warm tones will make it feel like your house is giving you a big hug!
How to understand gray undertones:
So when you are looking at a gray paint shade, look at the most concentrated color on the paint chip. That will give you the best idea of its undertones.
Does that mean you have to paint a room red to feel cozy? HECK NO!
How to Use Warm Paint Colors in Your House
Use warm gray paint colors in rooms that you want to feel cozy–whether they are small or large.
We painted our front room BM Balboa Mist, which is a warm shade of light gray. It has slight yellowish undertones and goes well with BM Simply White which also has yellowish/ gray undertones.
In a large airy room, this warm tone of gray makes the room feel welcoming and more intimate, look how good it looks in the room below.
Warm gray paint colors are also a great color for your bedroom or a cozy den. Below is a warm gray paint color very similar to Benjamin Moore Chelsea Gray. With the board and batten extending up the wall, and a light and airy white paint color above it, it's a lovey combination of warm paint colors.
If you want to bring some coziness to a kitchen, consider using a warmer light gray paint color on your kitchen cabinets like Revere Pewter.
Best Warm Gray Tones for Bedrooms

When it comes to choosing a warm shade of gray for your bedroom, you'll want to consider a few things. Do you want it to feel airy and spacious, or do you want it to feel cozy and intimate? Depending on which feelings you want to evoke, you'll want to go with either a light gray paint color or a darker warm gray paint color. See my favorite master bedroom paint colors here.
Benjamin Moore Pale Oak
Sherwin-Williams Colonnade Gray
Sherwin-Williams Worldly Gray
Gray Paint Colors for Living Room