Greige Paint: Looking for the perfect greige paint for your home? These warm gray paint colors are the perfect paint color that mixes the warmth of beige and the airiness of gray and look fantastic in any room! See the best paint colors from Benjamin Moore and Sherwin-Williams below
WHAT IS GREIGE?
Greige is the color that you get when you mix gray and beige hence the term "greige." Warm feeling light grays, and grayish beige paint colors make it a huge design trend we see picking up steam! If you like gray paint colors, but want to stay away from the cooler toned bluish gray shades, then greige is a great option!
HOW AND WHERE TO USE GREIGE PAINTS
The best greige paint colors will make your home feel cozy and spacious at the same time. These versatile neutral shades are light enough to look airy, and warm enough to make your home feel cozy. They look good when paired with other neutral colors, and at the same time are a wonderful complement to color.
We've used several of them in our house and they are my foolproof paint colors that look good no matter the light situation! North-facing rooms or South-facing rooms, all types of light conditions look fantastic with these warm undertone hues.
Greige paint colors are the most versatile neutral paint color you can find–and are some of Sherwin-Williams and Benjamin Moore's most popular paint colors for good reason. Find out how to choose the perfect greige tone for your house!
Related: Want a more true gray? See more of the best light gray paint colors here!


HOW TO CHOOSE A GREIGE PAINT COLOR
When you are looking for a greige paint color (or any paint color for that matter) you will want to pay attention to the undertones. If you aren't sure what I am talking about, undertones are the tint of color that you can see a little bit in any neutral color (that underlying feeling.) I'll show you how to see them below.
Some gray paint colors will have a slight bluish tint, some gray paint colors will have a warmer brownish tint, and some even have a greenish tint! Greige paint colors all have a warm undertone (the opposite of a cool gray paint color.) For example, see how much blue Benjamin Moore's Gray Owl (a cool gray) has compared to Revere Pewter (a greige) in the figure below. BM Gray Owl has a blue undertone and BM Revere Pewter has a brown undertone. Both are gray paint colors–but one is cool and one is warm.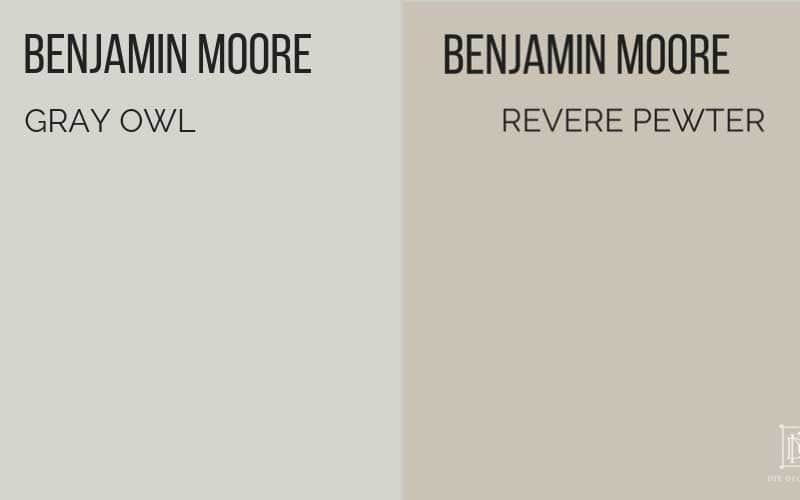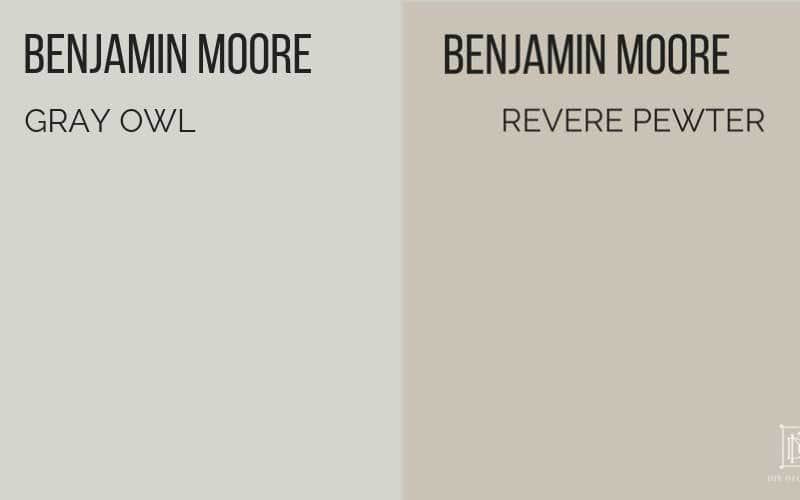 Related: See the best warm gray paint shades that look good in any home here
Next, look at the LRV (or light reflectance value)–this will tell you how dark a paint color is.
Take note of the Light Reflective Value (LRV) of each paint color mentioned. The LRV of a color means how much light a color reflects or absorbs. Light Reflectance Value is a scale between 0-100. The highest LRVs reflect the most light (like white paint colors), and the lowest LRVs reflect the least light. Most greige paint colors are in the 50s- mid 60 LRVs which will give you a substantial color without being a dark paint color.
For North facing rooms that don't get as much sun, I like to choose paint colors that have a warmer undertone and a higher LRV value; whereas, in South facing rooms, I like to choose cooler undertones and lower LRVs because they often get washed out by the sunlight and appear lighter and warmer.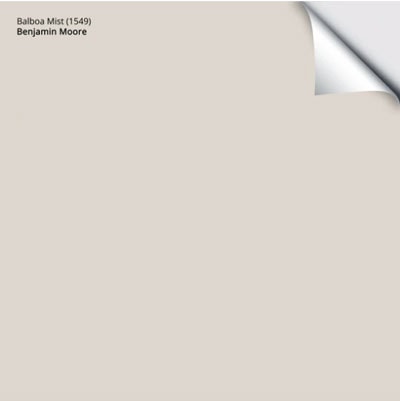 Finally, you'll want to get samples! The same paint color can look drastically different in two different rooms! The easiest way to get a paint sample (and not to avoid the mess of actually painting) is Samplize. I used to always recommend going to the actual paint store and buying a poster board to paint samples on, but now I recommend a much easier solution…Samplize!
Samplize sends you custom paint samples 1-3 business days
It costs less than buying a sample of paint, poster boards, and rollers.
They are re-positionable–so you can move them around the room without harming your walls!
Each Samplize paint sample has three coats of paint on it, so you never have to worry about bleed through–you are getting an accurate vision of what the paint will look like in your house on a swatch that is 12″ x 12″
Visit the SAMPLIZE website HERE
BEST GREIGE PAINT COLORS BENJAMIN MOORE
Balboa Mist- Benjamin Moore
Benjamin Moore Balboa Mist is one of my favorite warm gray paint colors and one of the best greige paint colors you can find! We loved it so much we used it in both our living room and our dining room/ playroom! See my complete review of it here and how it compares with other warm gray paint colors: Benjamin Moore Balboa Mist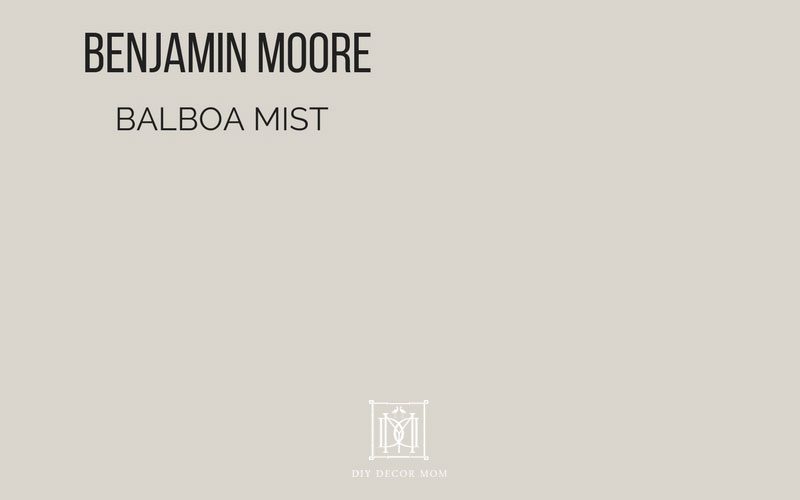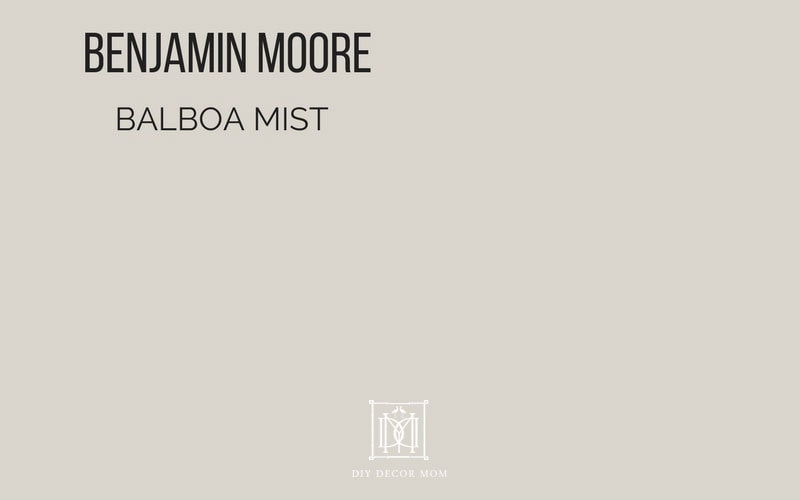 GET A SAMPLE OF BALBOA MIST HERE
Balboa Mist has slightly warm undertones that can sometimes skew a bit purple. It is the perfect warm gray that will read warmer in a south-facing room (what my living room is), and slightly cooler and more purply in a north-facing room.
Benjamin Moore's Balboa Mist has a LRV of 67 which is the perfect LRV for an airy yet warm look–and it looks lovely in open concept floor plans. It goes really well with warm white paint hues, like BM Simply White as shown below–and is one of Benjamin Moore's most popular greige paint shades for good reason!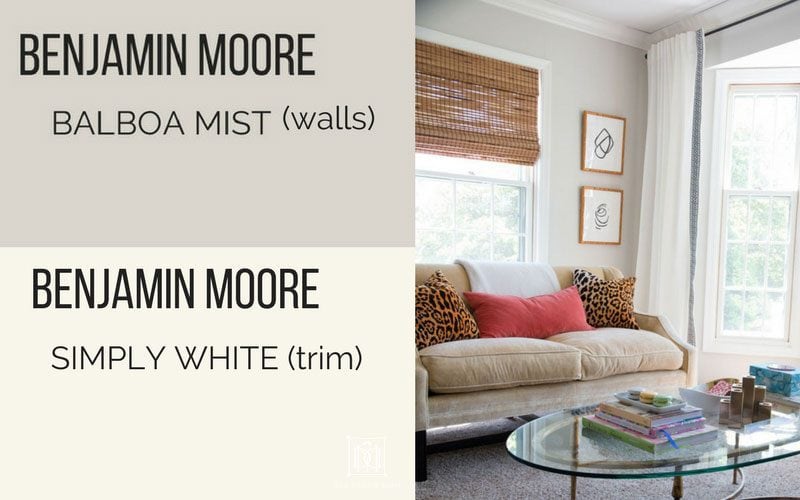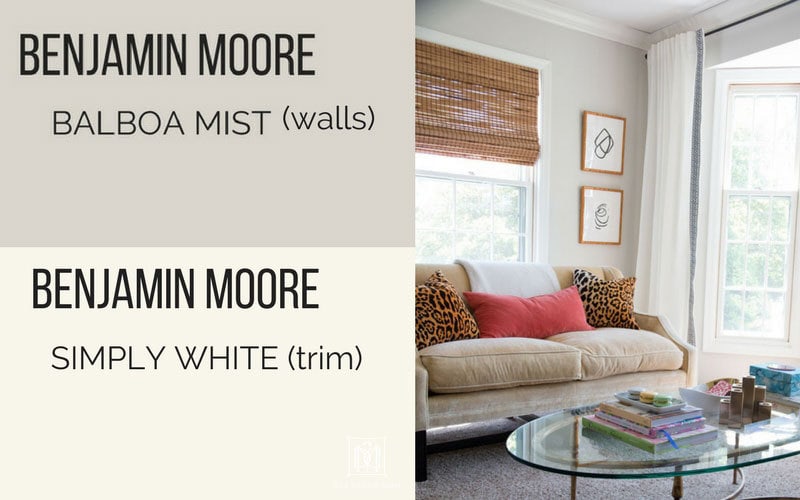 Revere Pewter- Benjamin Moore
A true greige if there ever was one, BM Revere Pewter is a popular greige paint for good reason…it's warm and cozy feeling while still giving a "clean" aesthetic. See real rooms with Benjamin Moore Revere Pewter here and how it compares to other warm gray paint colors.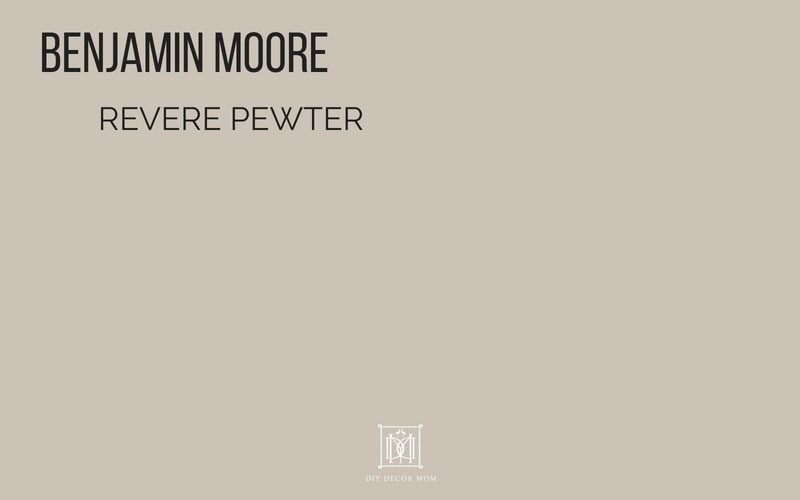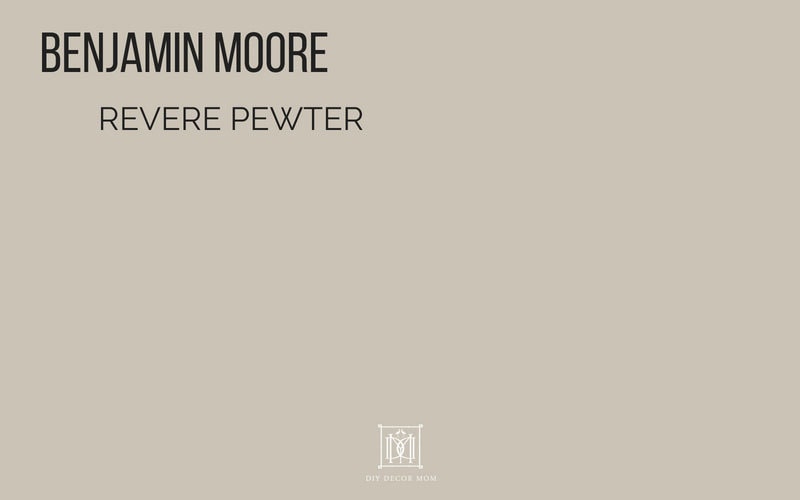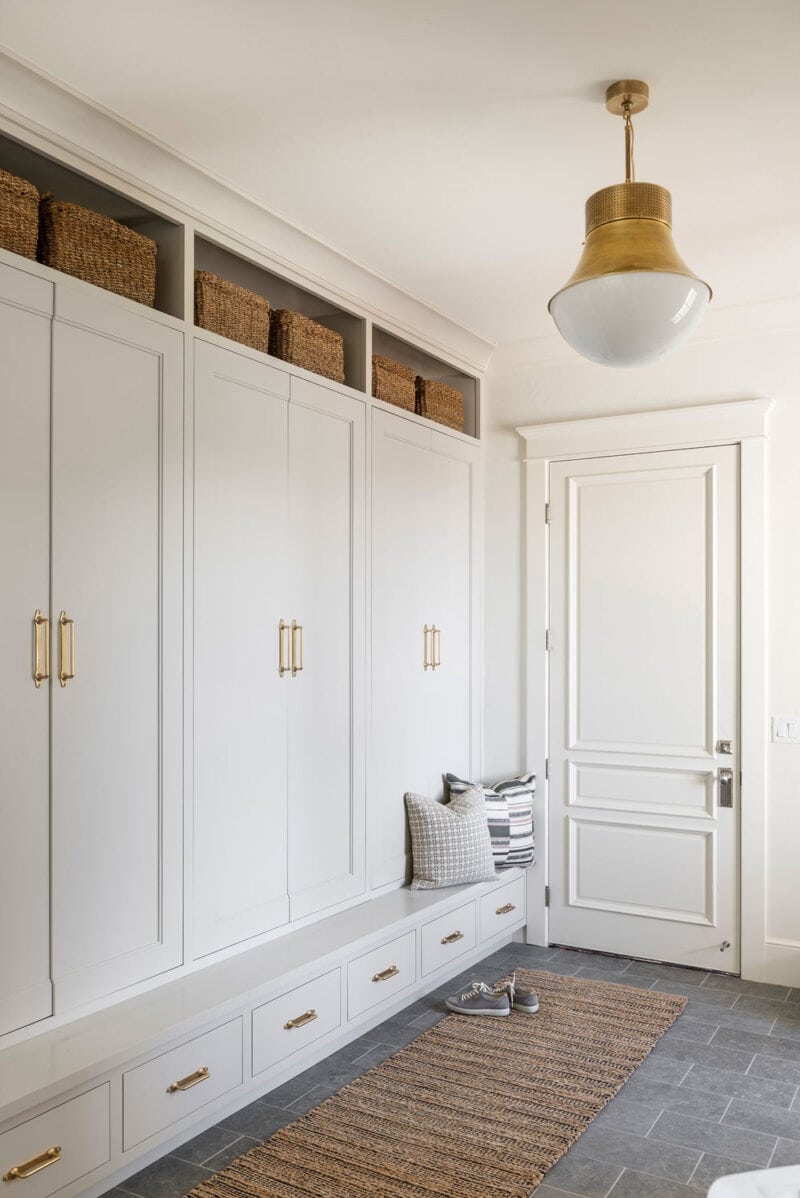 Laundry Room painted Revere Pewter by Studio McGee
Edgecomb Gray- Benjamin Moore
Benjamin Moore Edgecomb Gray is another fantastic greige paint. It is slightly lighter than Revere Pewter and has a bit more of a greenish undertone than Revere Pewter. It is a lovely greige that looks fantastic in rooms. While we don't have it in our house, I've rounded up several amazing rooms that show it off here: Edgecomb Gray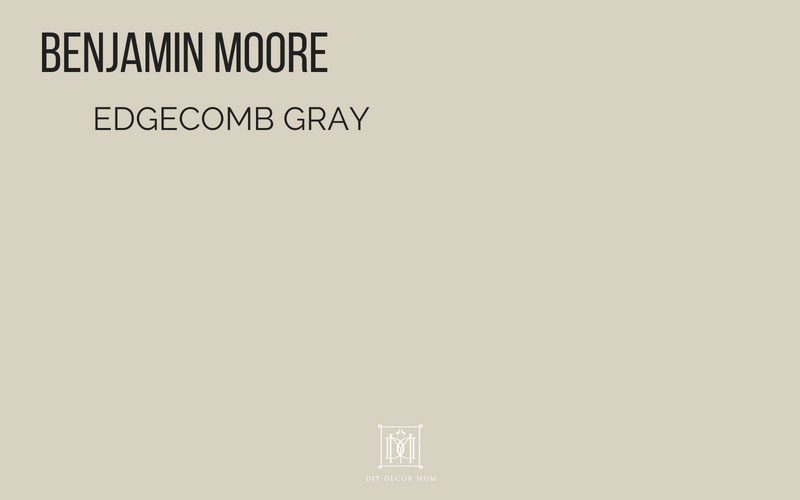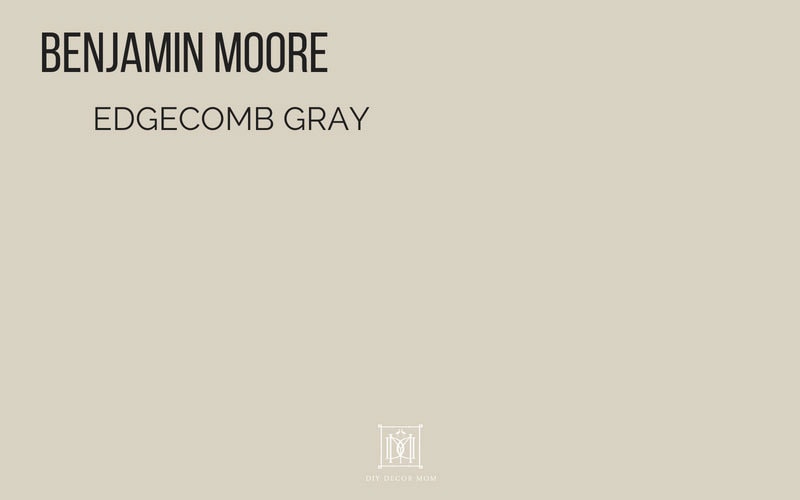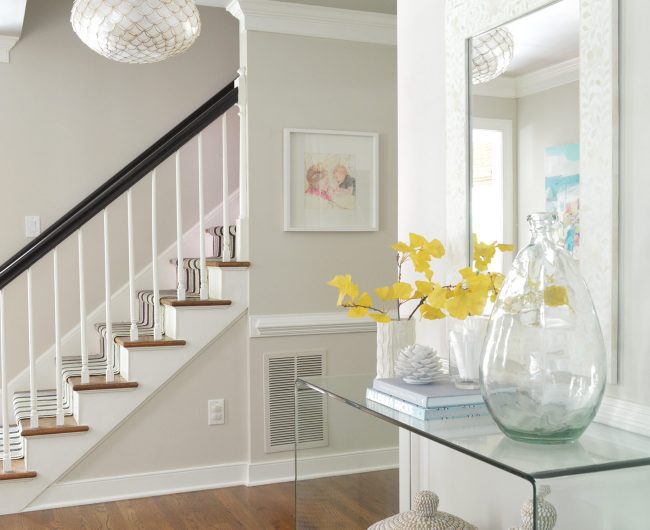 Edgecomb Gray painted foyer by Young House Love
Pale Oak by Benjamin Moore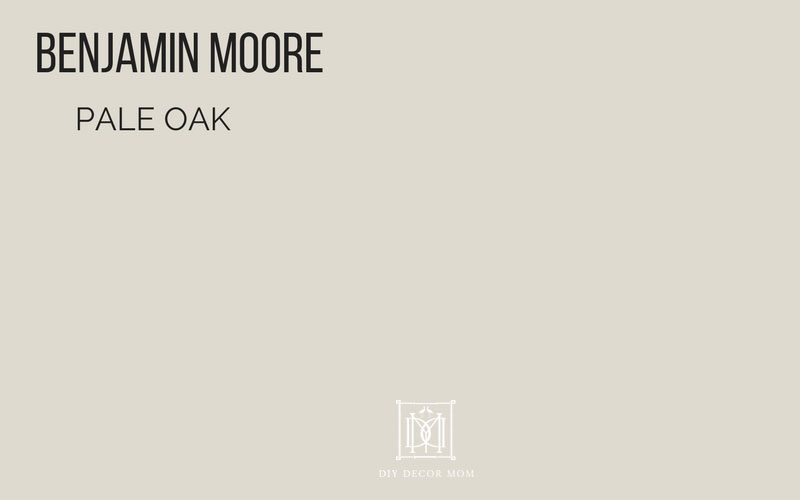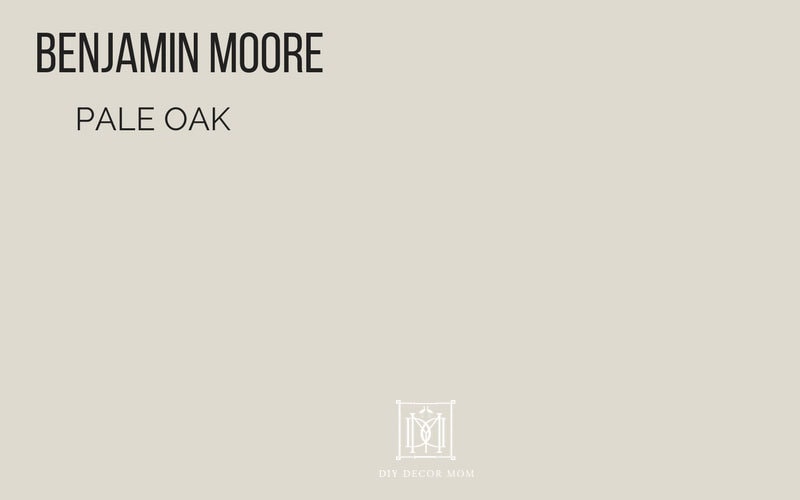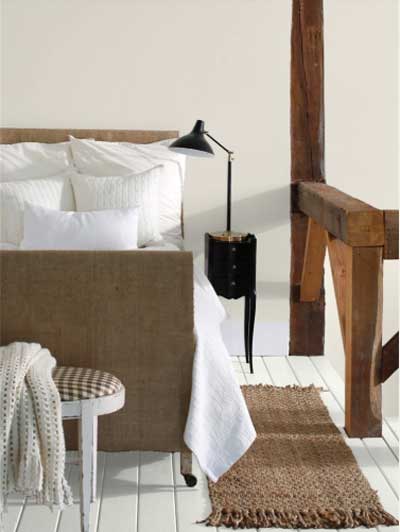 Pale oak bedroom by Benjamin Moore
BEST GREIGE PAINT COLORS FROM SHERWIN-WILLIAMS
Repose Gray SW 7015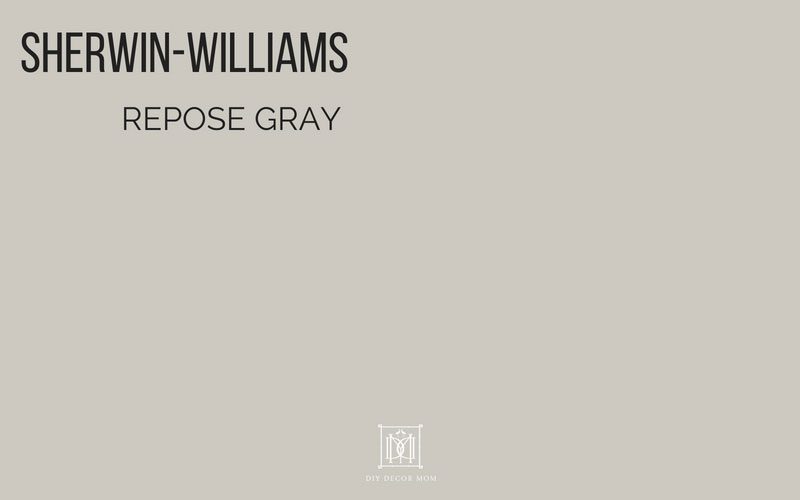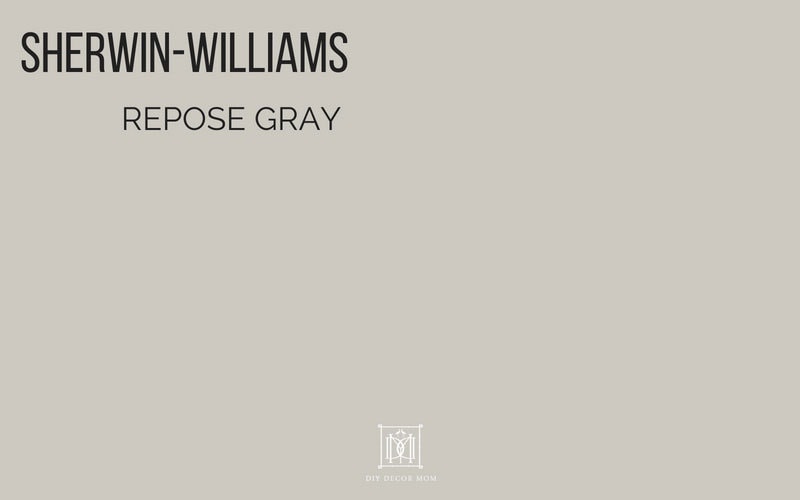 Repose Gray has a similar color value (or saturation) as Balboa Mist, with a touch more blue. Nevertheless, it is a fantastic light gray pant color that is still warm, and hence, I consider it a greige. See my complete review of it here: Sherwin-Williams Repose Gray
Related: See my favorite blue-gray paint colors here!
Agreeable Gray
Sherwin-Williams Agreeable Gray is one of their most popular paint colors–for a good reason! It is a warm gray without any bluish tones and works well with other paint colors. See my complete review of it here: Agreeable Gray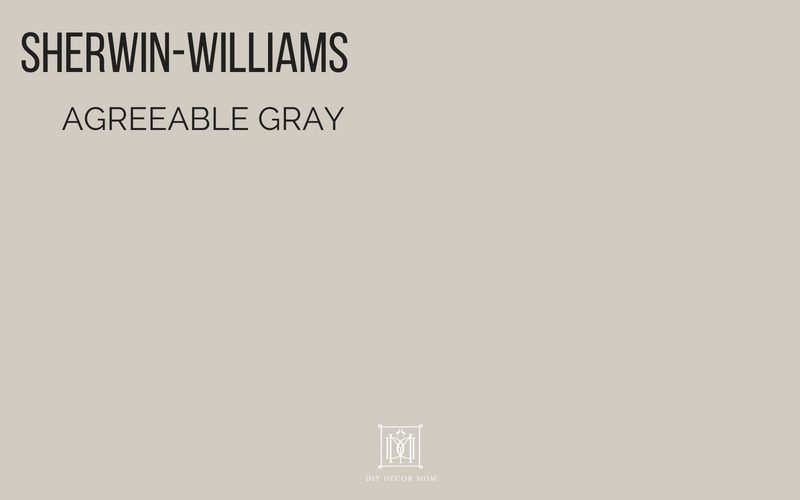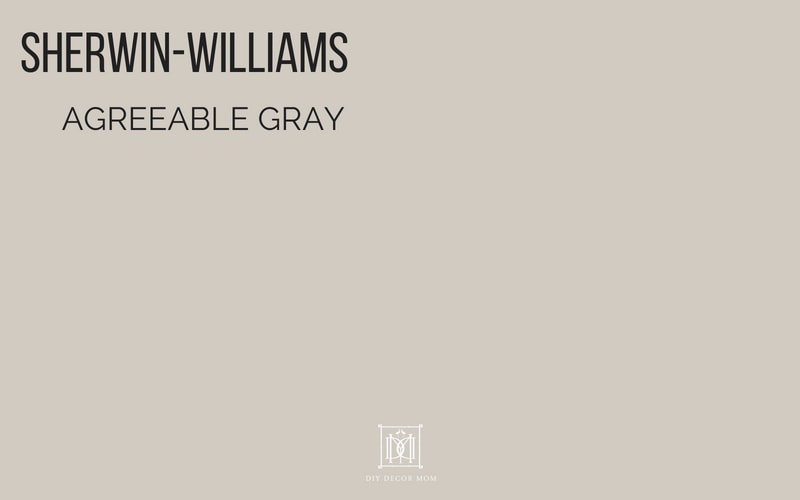 Accessible Beige SW7036
Sherwin-Williams Accessible Beige is one of their top greige paint colors, and you can see below how similar it is to Agreeable Gray (another top greige paint!) Accessible Beige has a touch more taupe in it–a tad more beige than gray (hence the name). But both have similar color values.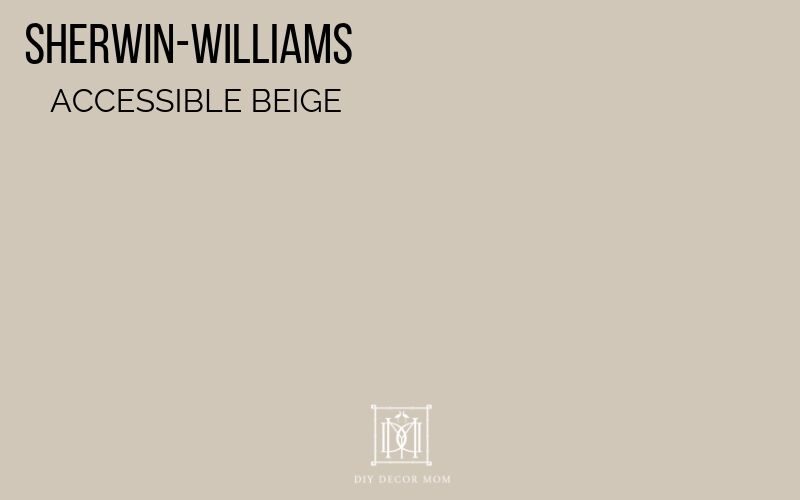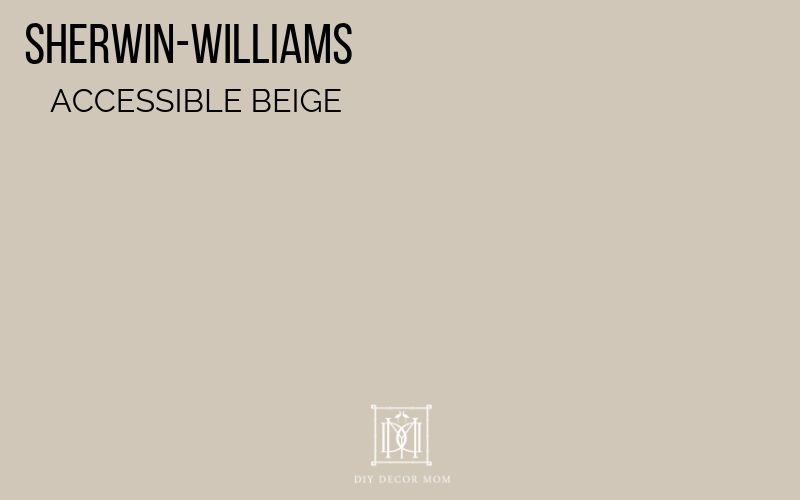 Anew Gray- Sherwin-Williams
Mindful Gray- Sherwin-Williams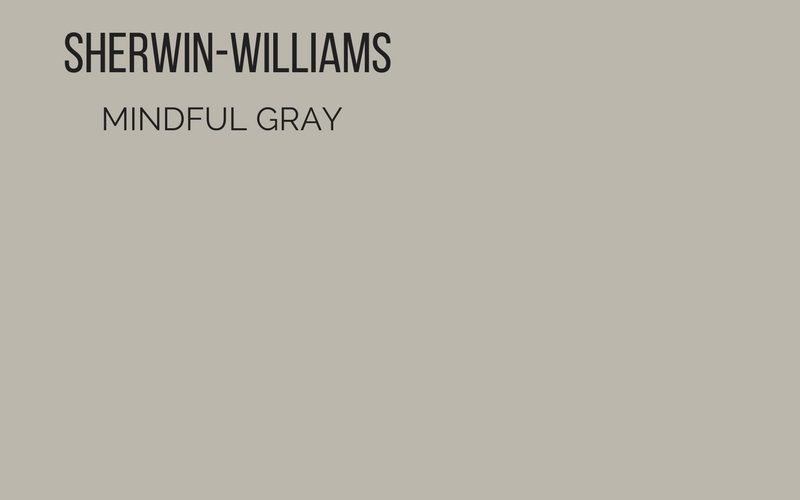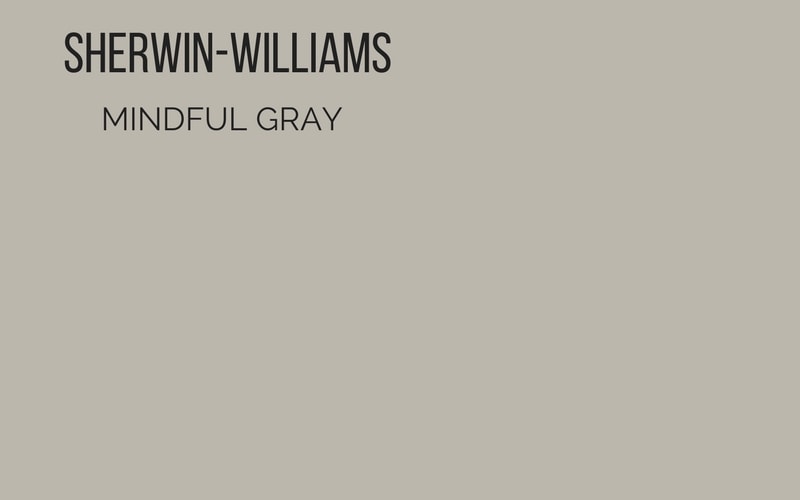 Perfect Greige- Sherwin-Williams
Colonnade Gray- Sherwin-Williams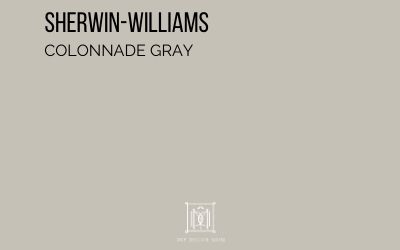 Worldly Gray- Sherwin-Williams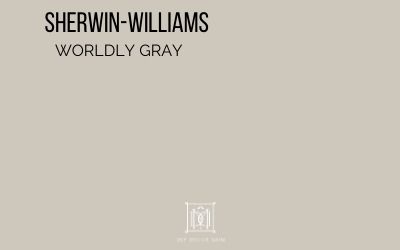 Behr Silverdrop
TOOLS TO PAINT A ROOM FAST
This post contains some affiliate links for your convenience. Click here to read my full disclosure policy.
PSSST! If you are looking at painting a room, don't forget to pick up these things! These tools have literally saved me DAYS of painting and cut my time painting by 66%! I only wish I knew about them and made the under $10 purchase before!
Abrasive Hand Pad

U

se this instead of sandpaper. Using sandpaper will rub off too much of the varnish and the stain on your oak wood trim will permeate your newly painted white paint. We use these abrasive pads everywhere instead of sandpaper.

Paint Pad–– save yourself HOURS by buying this under $10 painting tool!
Paint Trim Guard

You are going to want this if you have wall-to-wall carpeting or hardwood floors that you want to protect. I use it along with Painter's Tape to ensure that I don't have drips on my floor.
There you have it! The seven best greige paint colors for your house perfect for bedrooms, kitchens, living rooms, and family rooms! Still worried about making a mistake choosing your paint color? With this trick, I've painted almost my entire house and never regretted a paint color choice!
FAQs About GREIGE
What is the best greige paint color?
I'd be hard pressed to pick a favorite but I am partial to Balboa Mist, Classic Gray, and Edgecomb Gray! Nevertheless, don't let my advice make the decision for you! All seven of these fabulous greige paint colors would look great in any home!
You'll love these posts on painting tips and tricks