Greige Paint: Looking for the perfect greige paint for your home? These greige paint colors are the perfect paint color that mixes the warmth of beige and the airiness of gray and look fantastic in any room! See the seven best Benjamin Moore greige paint colors below!
GREIGE PAINT
Do you want your home to feel sophisticated, yet warm, airy yet not cold, then you want a greige paint color! These best greige paint colors will make your home feel cozy and spacious at the same time. We've used several of them in our house and they are my foolproof paint colors that look good no matter the light situation! North-facing rooms or South-facing rooms, all types of light conditions look fantastic with these seven greige paint colors from Benjamin Moore! See more of the best light gray paint colors here!

GREIGE PAINT COLORS
When you are looking for a greige paint color (or any paint color for that matter) pay attention to the undertones. If you aren't sure what I am talking about, it's the tint of color that you can see a little bit in any neutral color. Some gray paint colors will have a slight bluish tint, some gray paint colors will have a warmer brownish tint, and some even have a greenish tint! For example, see how much blue Benjamin Moore's Gray Owl has compared to Revere Pewter? BM Gray Owl has a blue undertone and BM Revere Pewter has a brown undertone.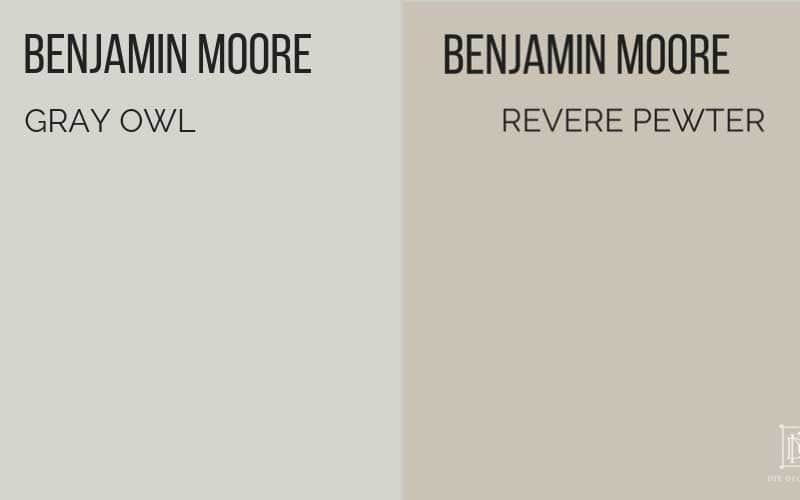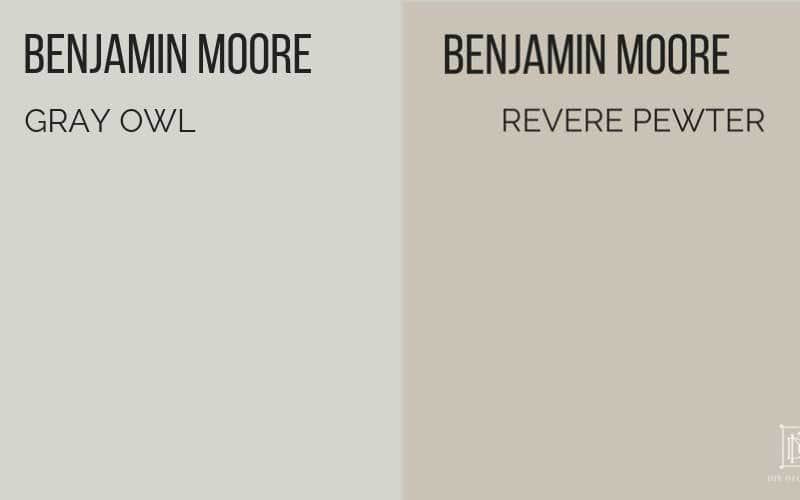 Pro tip: Look at the most saturated (or darkest) paint chip on your paint If you aren't sure what the undertones of any paint chip!
For North facing rooms that don't get as much sun, I like to go lighter and warmer; whereas, with my South facing rooms, I go darker because they often get washed out by the sunlight and appear lighter.
BEST GREIGE PAINT COLORS
Stumped as to what greige paint color you should use in your house? Here are the best seven greige paint colors that are designer favorites and my foolproof picks!
1.) Benjamin Moore Balboa Mist
Benjamin Moore Balboa Mist is one of my favorite warm gray paint colors and one of the best greige paint colors you can find! We loved it so much we used it in both our living room and our dining room/ playroom! See my complete review of it here and how it compares with other warm gray paint colors: Benjamin Moore Balboa Mist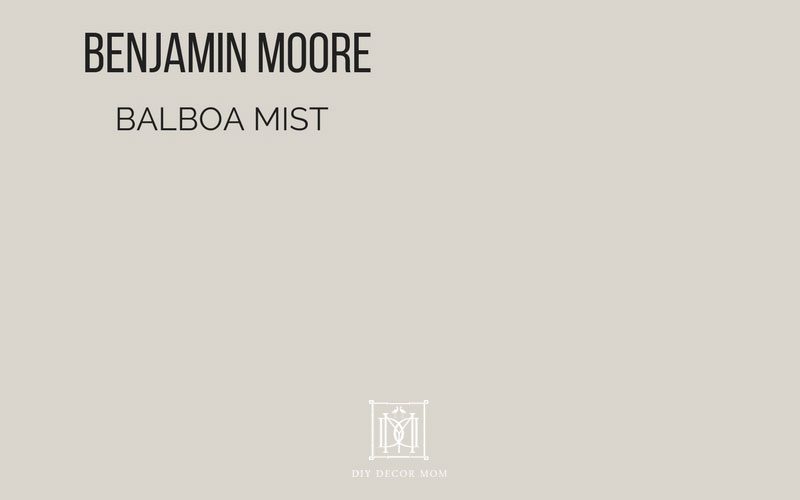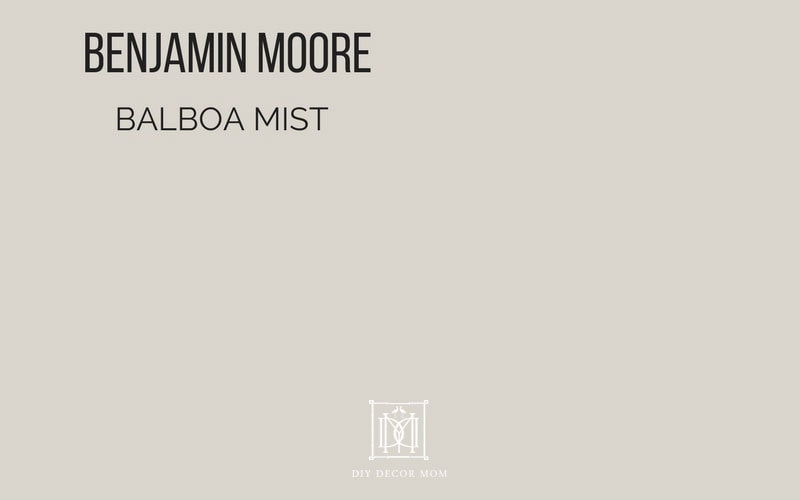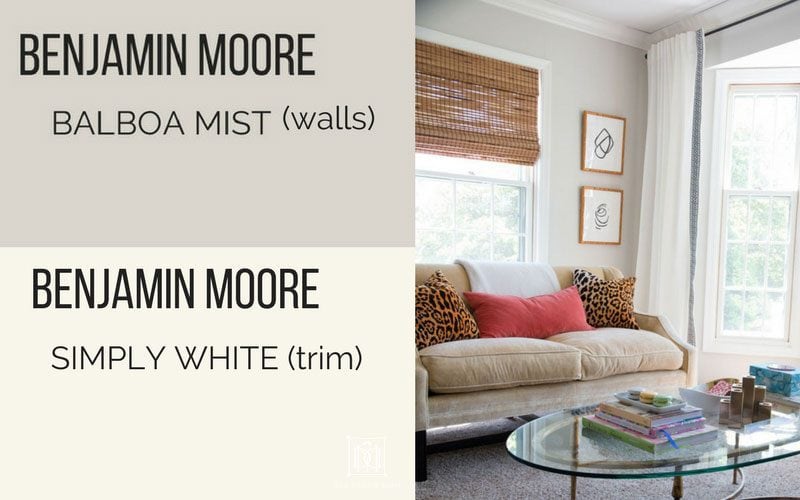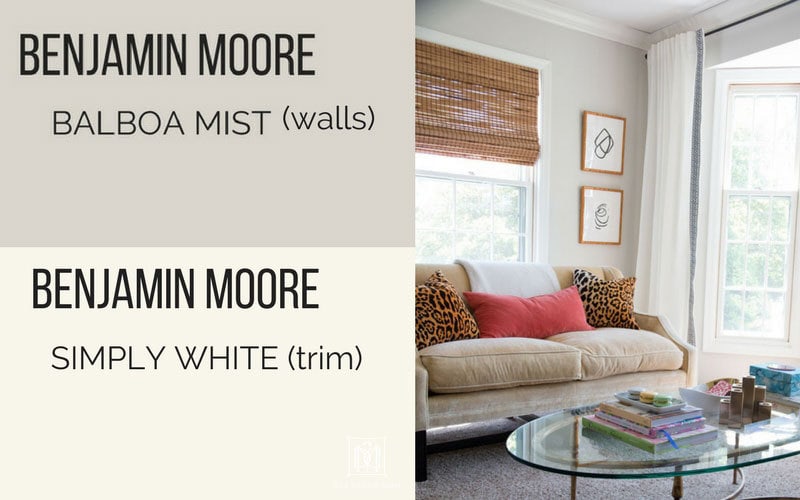 2.) Benjamin Moore Classic Gray
Benjamin Moore Classic Gray is another one of my tried-and-true favorite greige paint colors (and I even consider it one of the best light gray paint colors!) It is slightly lighter than Balboa Mist and still very airy feeling. We have used it in our master bedroom, our mudroom hallway, and our front foyer. If I was to choose one color to paint an entire house, I would go with Classic Gray. See my complete review of Benjamin Moore Classic Gray here.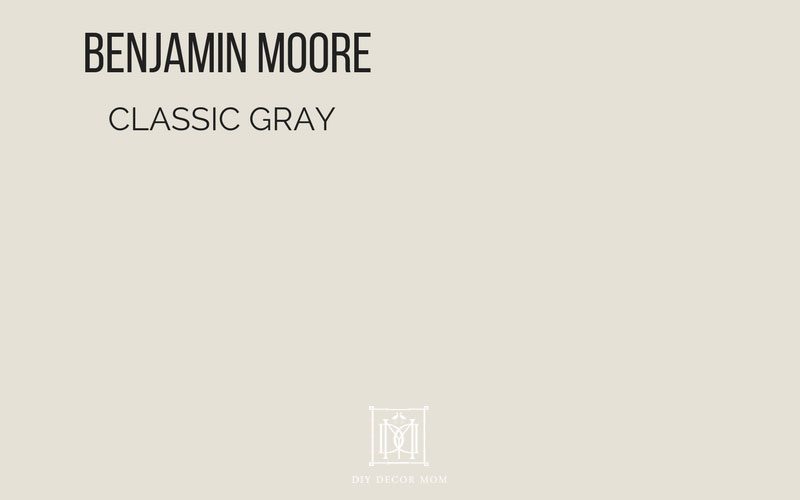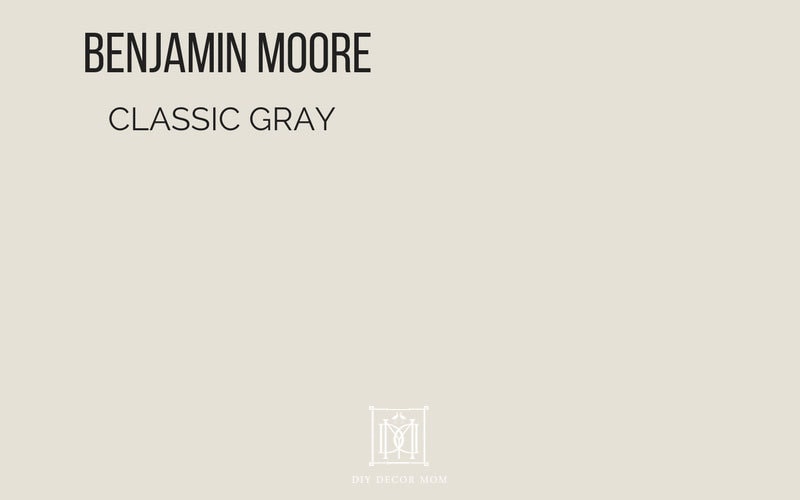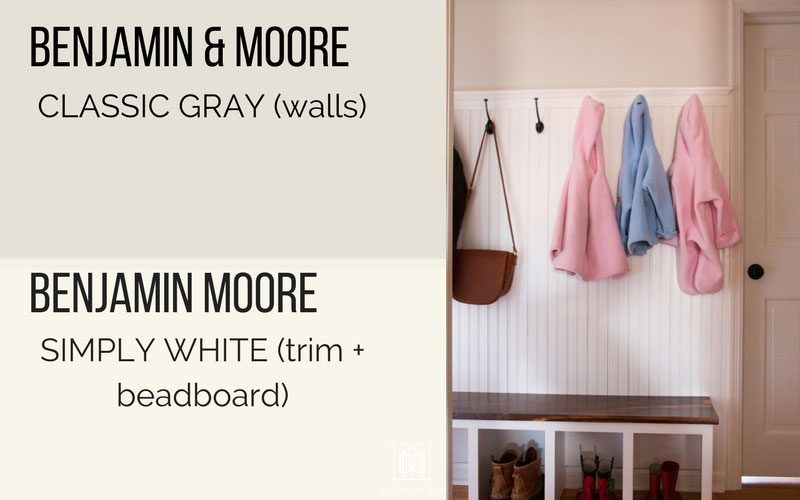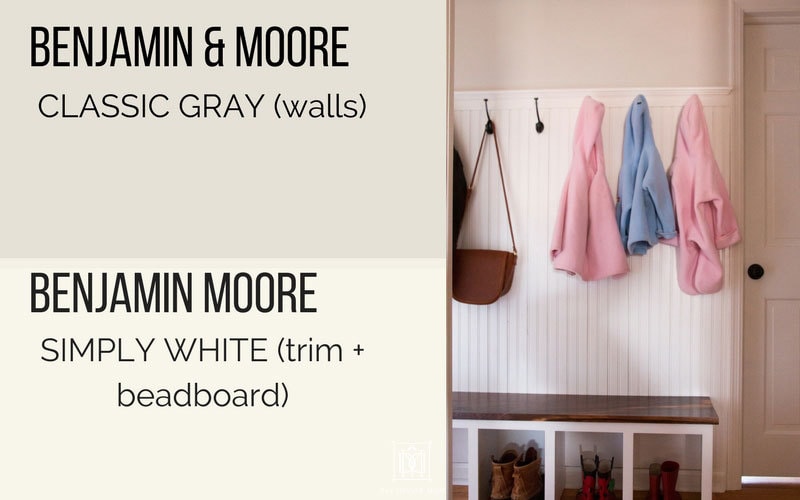 3.) Benjamin Moore Revere Pewter:
A true greige if there ever was one, BM Revere Pewter is a popular greige paint for good reason…it's warm and cozy feeling while still giving a "clean" aesthetic. See real rooms with Benjamin Moore Revere Pewter here and how it compares to other warm gray paint colors.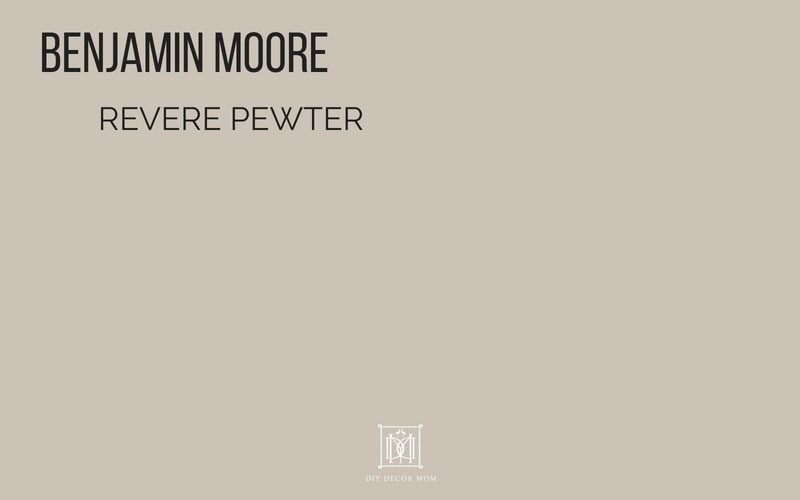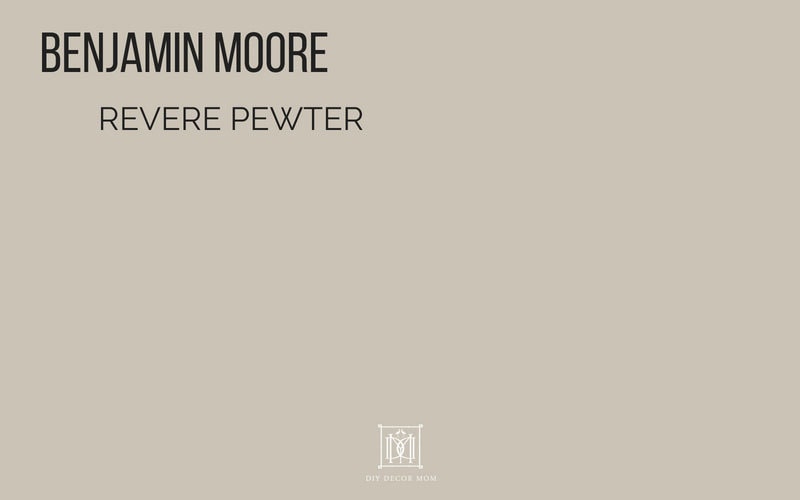 4.) Benjamin Moore Edgecomb Gray
Benjamin Moore Edgecomb Gray is another fantastic greige paint. It is slightly lighter than Revere Pewter and has a bit more of a greenish undertone than Revere Pewter. It is a lovely greige that looks fantastic in rooms. While we don't have it in our house, I've rounded up several amazing rooms that show it off here: Edgecomb Gray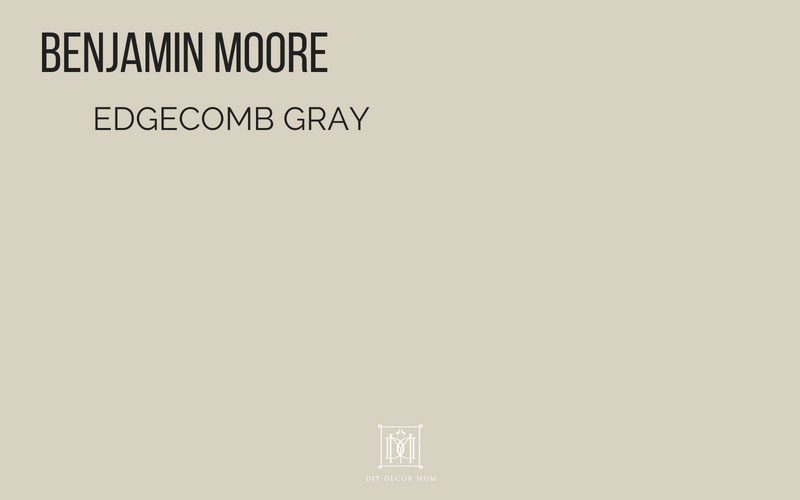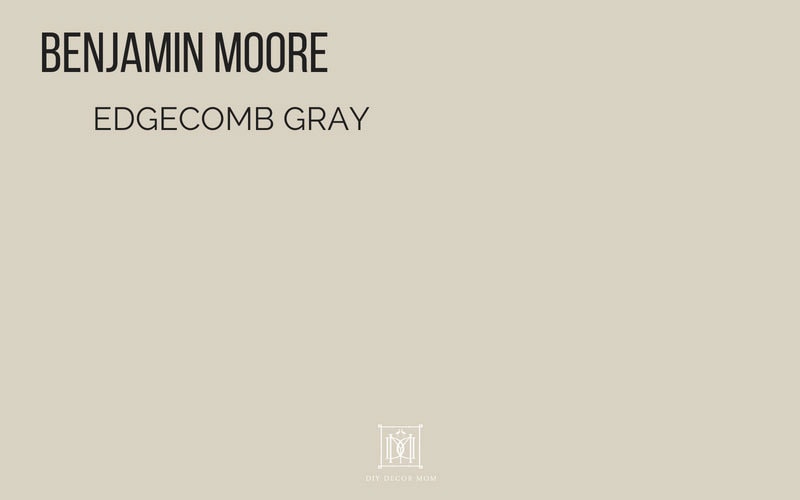 5.) Benjamin Moore Pale Oak
Pale Oak is another fantastic light gray paint, and an airy yet warm greige paint color. It is very similar to Balboa Mist and Classic Gray but is slightly warmer. It looks wonderful with wood trim if you have some in your house!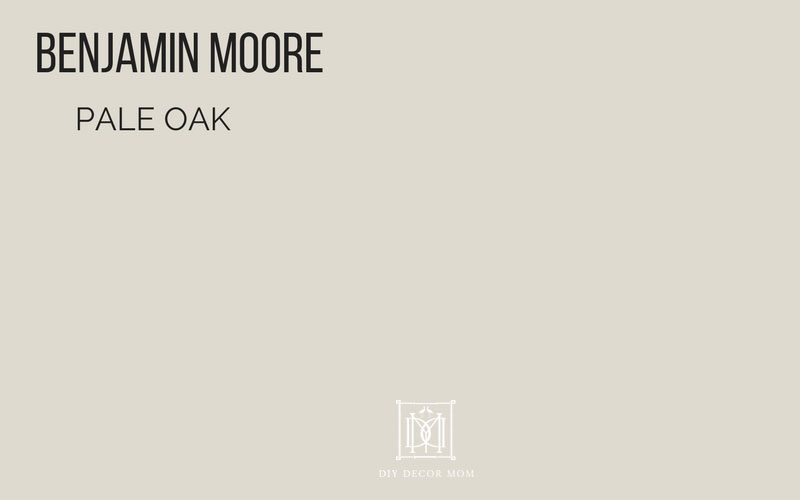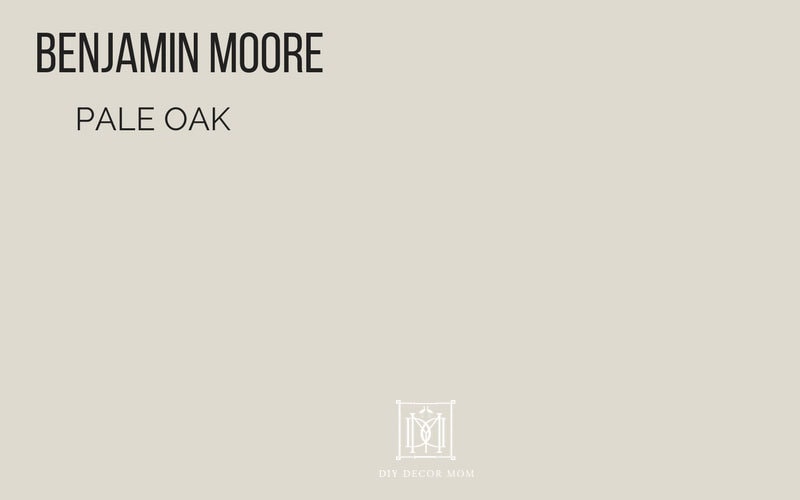 Gray Owl is one of the most popular light gray paint colors for good reason. I almost hesitate to classify it as a greige however because I see so much blue in it; but, the color experts all agree–it's a greige! If you like cooler colors and love blues, consider using BM Gray Owl in your house!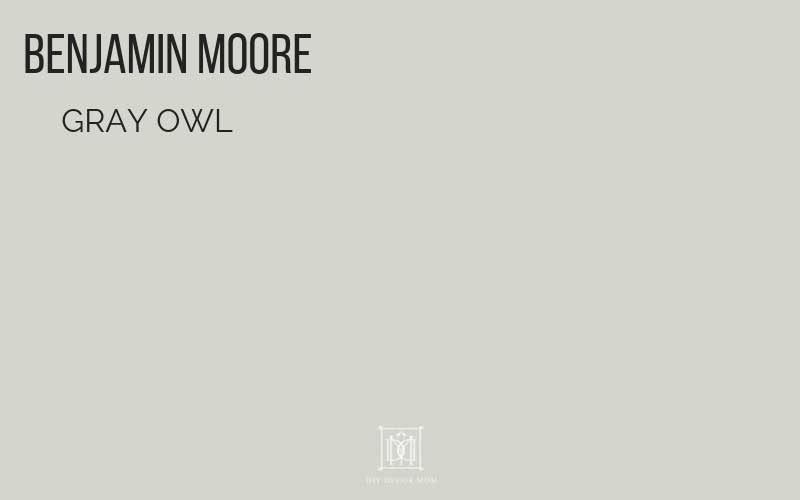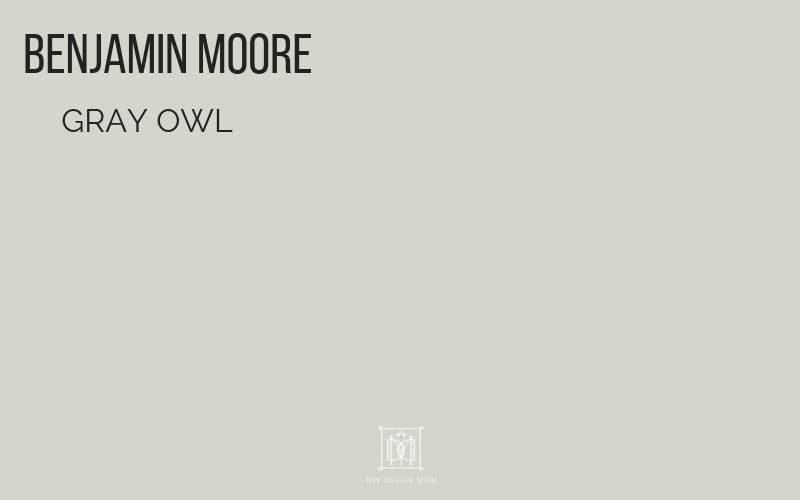 There you have it! The seven best greige paint colors for your house perfect for bedrooms, kitchens, living rooms, and family rooms! Still worried about making a mistake choosing your paint color? With this trick, I've painted almost my entire house and never regretted a paint color choice!


FAQs About GREIGE PAINT
What is greige?

Greige is the color that you get when you mix gray and beige "greige." Warm feeling light grays, and grayish beige paint colors make greige a huge design trend we see picking up steam!

What is the best greige paint color?

I'd be hard pressed to pick a favorite but I am partial to Balboa Mist, Classic Gray, and Edgecomb Gray! Nevertheless, don't let my advice make the decision for you! All seven of these fabulous greige paint colors would look great in any home!