Interior Design Mistakes You Don't Know You're Making AND How to Fix Them: If you've ever wondered why your house doesn't look like the ones in magazines or doesn't feel "just right," chances are you're making one or more of these decorating mistakes. I've been there and made them, and I learned how to fix them and will show you exactly how in this post!
INTERIOR DESIGN MISTAKES YOU'RE MAKING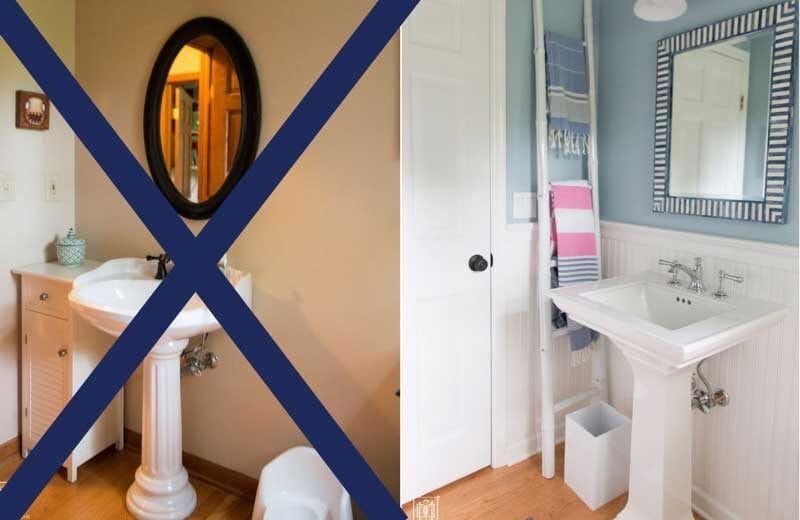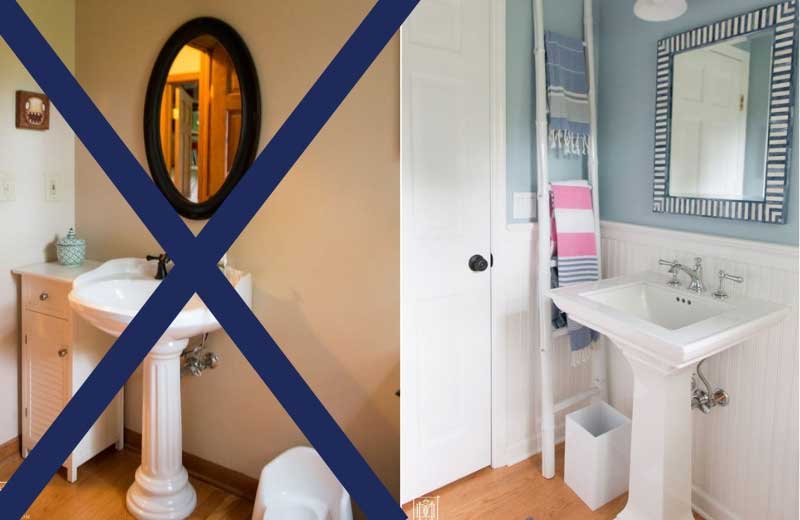 *This post was originally published in 2016 and has been updated with current information and photos.
We all want a beautifully decorated home that works for our families. We want it to feel cozy yet airy, elegant yet not fussy, and fun but not crazy. If you are unsatisfied with how your house feels, chances are you are making one of these five most common design mistakes! I see them in 95% of the homes I encounter! After you fix these mistakes, make sure you check out these easy 11+ Easy DIY Home Improvement Projects you can do to upgrade your home!
WINDOW TREATMENT DESIGN MISTAKES
Tip 1: Add window treatments!

Windows should have some sort of window treatments–whether they are bamboo blinds, wood (or faux wood), or traditional curtains, your house will look more finished with some sort of window treatments on your windows.
Look how much better our living room looks after we installed inexpensive curtains! See how to make your own DIY Curtains–including how to make Ikea curtains look expensive!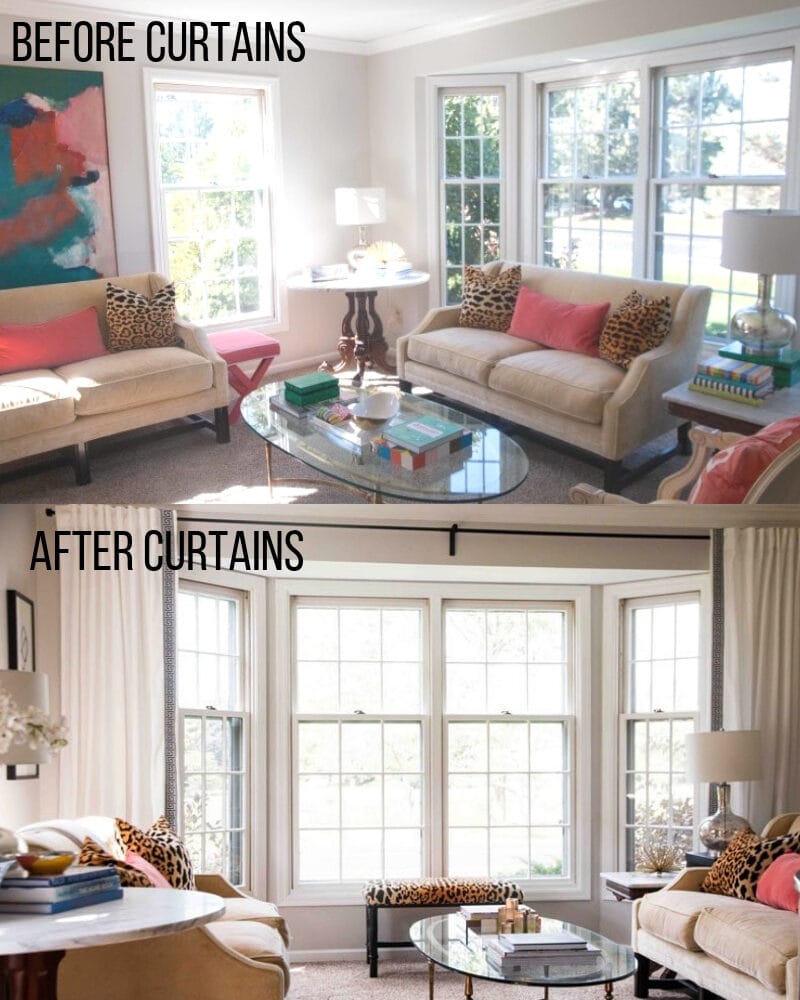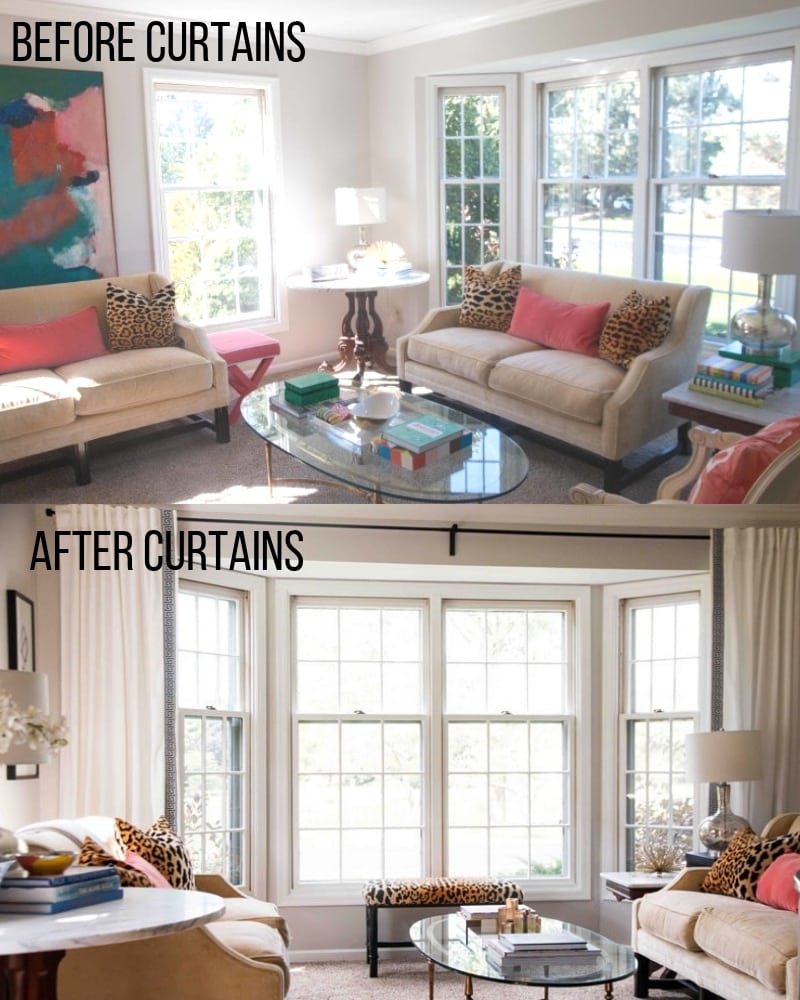 Hang your curtains high and wide!

We have standard 8′ ceilings in our house, and standard size windows; but, when you look at pictures of our house (or are in our house) it looks much more expansive. HOW? I hung all the curtains high and wide.
By hanging your curtains in this way, they trick your eye into thinking that ceilings are much higher and windows much larger than they really are. Don't believe me?
See this graphic below of the four identical windows with and without proper curtains. Then download the cheat sheet for the exact measurements you need to hang your curtains!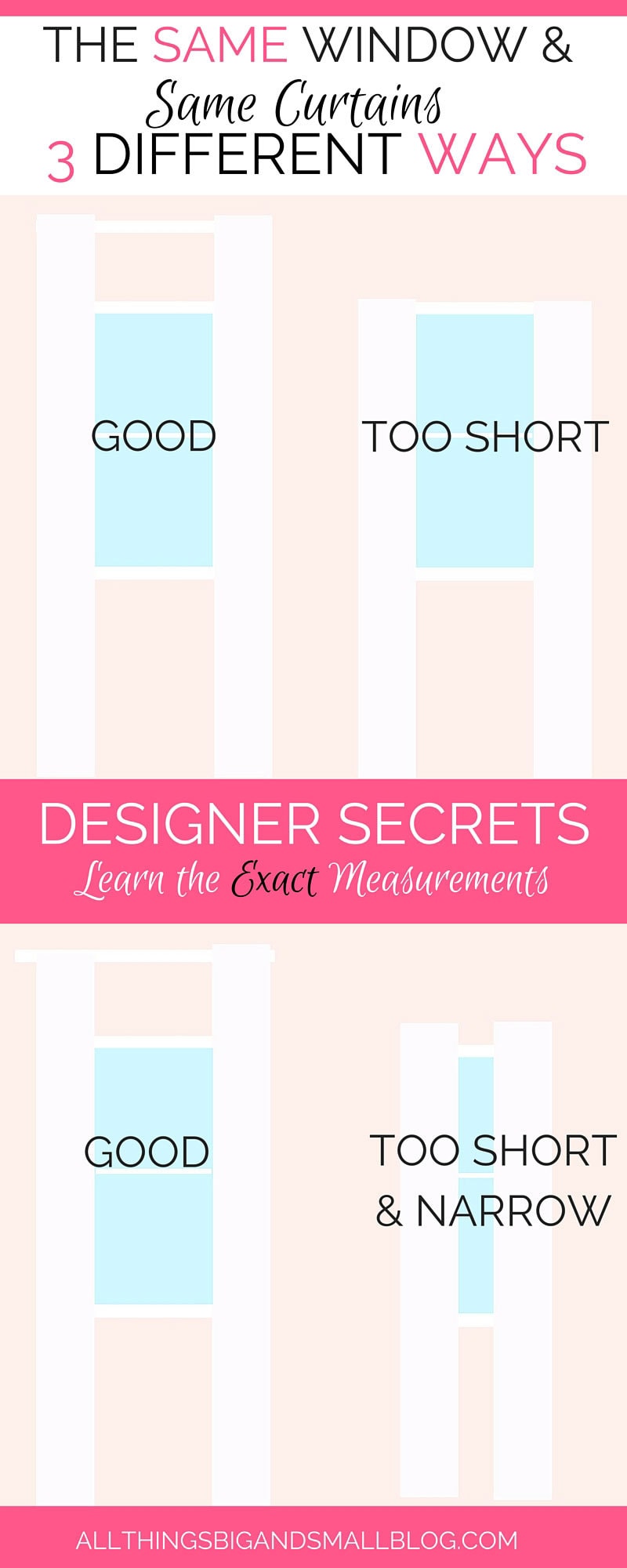 Tip: Add Roman Curtains in hard-working rooms like kitchens or bathrooms

Just because a bathroom or kitchen is utilitarian does mean it can't be pretty!
We installed DIY Roman Shades in our downstairs bathroom during our budget-friendly makeover!
See how to make your own DIY Roman Shades here complete with a full tutorial!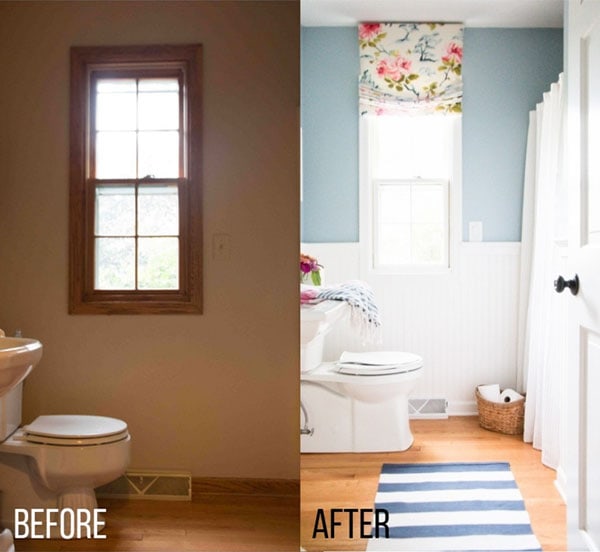 FURNITURE ARRANGING MISTAKES
Tip #1: Add furniture

When we moved into our current house (3,000 square feet) from a tiny 750 square foot apartment, we didn't have quite enough furniture to make it seem cozy. Although we tried our best, you can see it just looked a little empty in the first photo.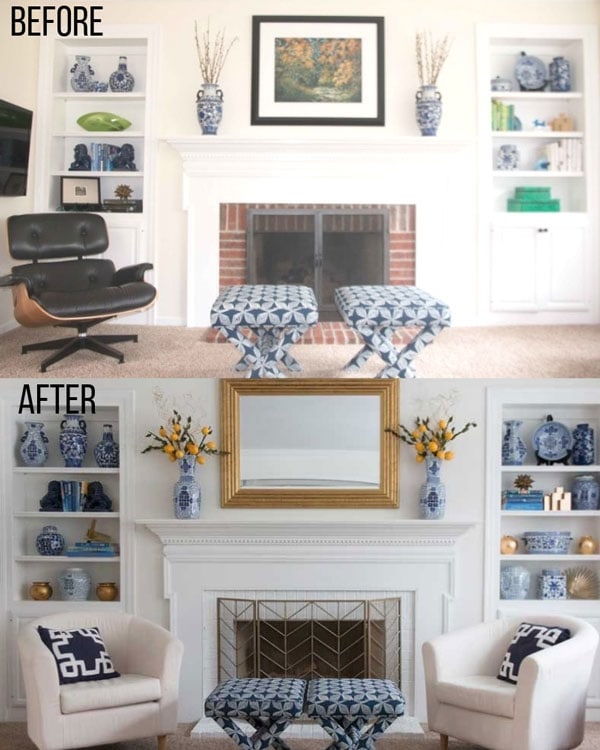 While the bottom picture still isn't ideal (I would like some bigger chairs and small side tables instead of the benches), it is a budget-friendly upgrade that works well for our home (and lifestyle with young kids) now. Cheap Ikea chairs are always a win in my book with three (almost four) kids under six and for less than $100 a pop. See my favorite affordable accent chairs here!
Download my guide for the exact measurements from experts for arranging your furniture including how far a coffee table should be from a sofa, how wide your pathways for traffic should be, and even how high to hang your chandelier! It has everything you need to know gathered from the top interior design experts (and made applicable for regular folks like you and me!)
Tip #2: Float your furniture out from the wall

Give your walls some room to breathe by floating furniture out in front of them. This will create more natural feeling rooms. We have our large couch a foot out from the window in our family room so it seems cozier, and it's more functional! No more kids climbing the windows or couches pressed up against the heating registers!
Tip #3: Create smaller seating areas in large rooms

Group smaller chairs together with a small table or bench. Ideally, each chair should have somewhere to rest a drink (if necessary). With so many young kiddos, I like to keep our house a bit more open for running around and playing, so we limit the tables. But, take a seat in each one of your chairs and make sure there is somewhere a guest could put a drink.
Tip #4: Create symmetry with pairs of furniture

If you can't afford to buy pairs of furniture, make them look more similar by painting them the same color! You don't immediately notice our mismatched nightstands in our former guest room because I painted both of them the same color. Using the same lamps and mirrors on top helps the illusion!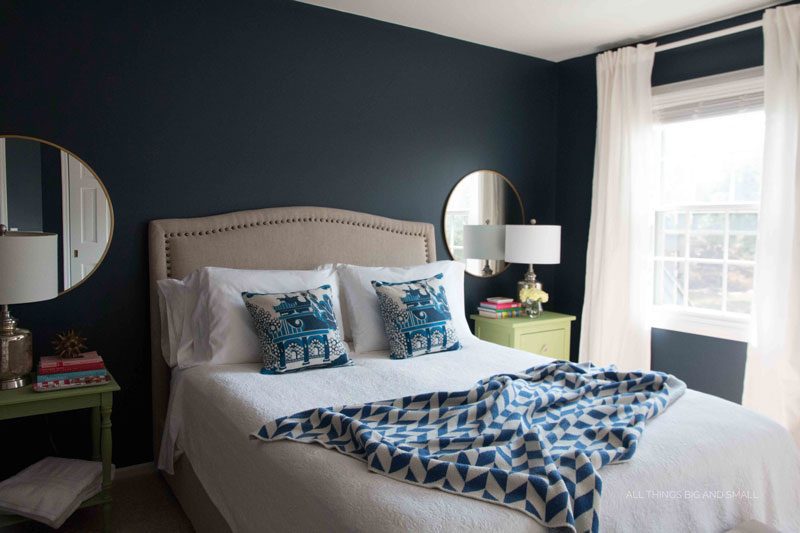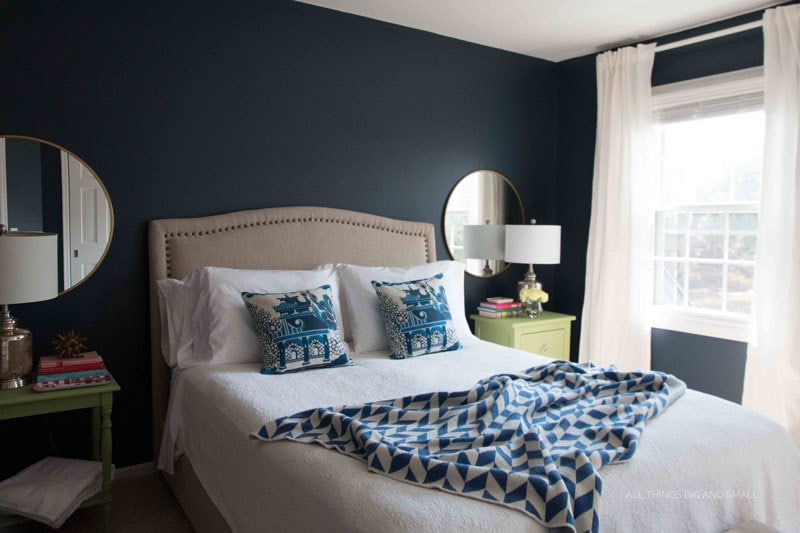 INTERIOR DESIGN MISTAKE #3: TOO MUCH CLUTTER
Tip #1: Minimize the stuff you have out

For my sanity, I like to keep a good number of our child-accessible surfaces clutter-free. Although I love the look of a curated vignette like the ones you see in magazines, it just isn't realistic for our family right now. The more things out, the more things I potentially have to put away, so we keep our daily surfaces clutter free (as much as possible!)
See how we made this DIY Family Command Center here.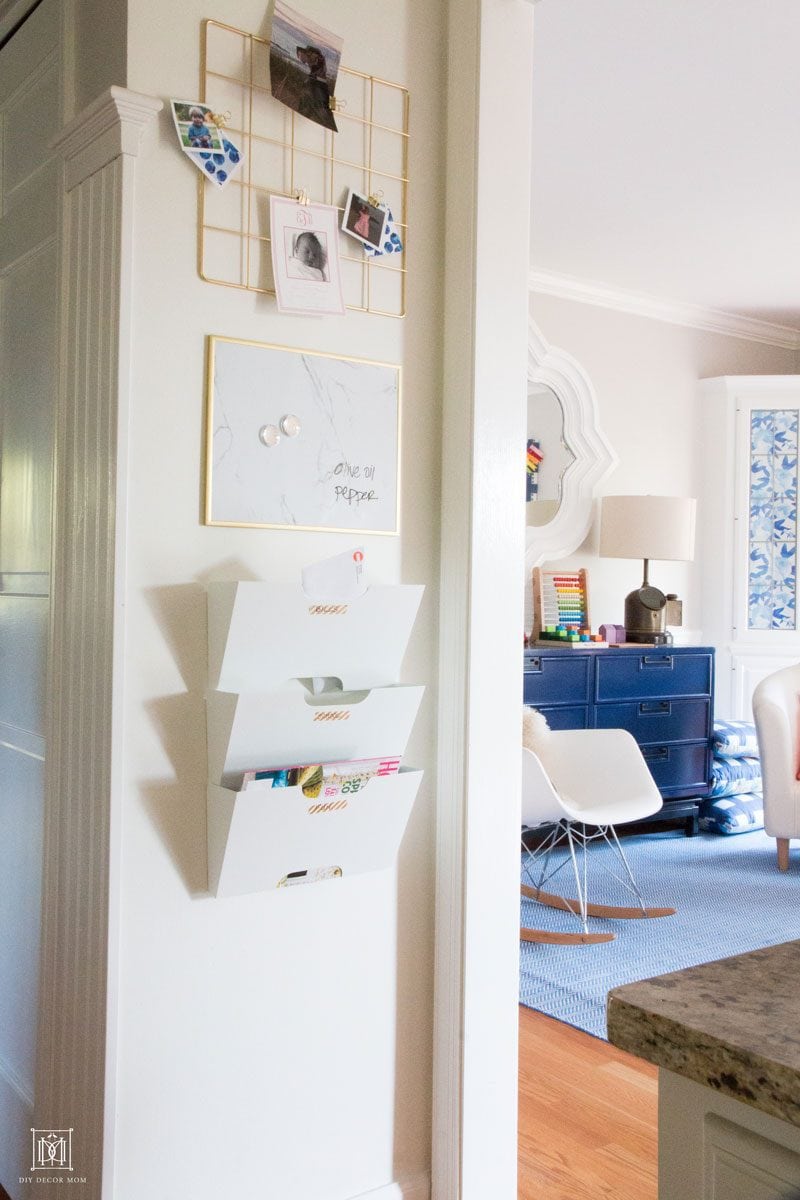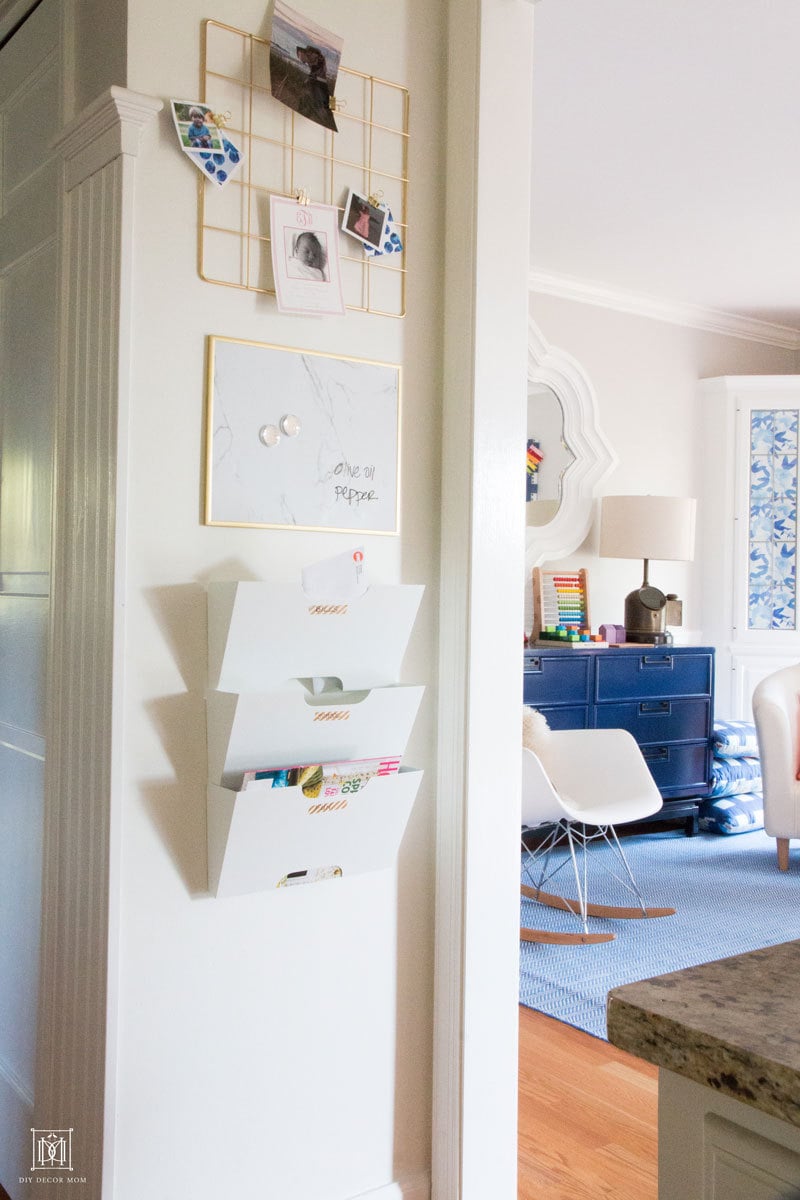 Tip #2: Put decorative objects and vignettes out of reach of children

I do have a few high up surfaces and shelves that I do keep decorated like our entry table in our foyer and our built-in bookshelves in our family room. The ottoman for our family room and side tables remain bare so the kids can't get into too much trouble!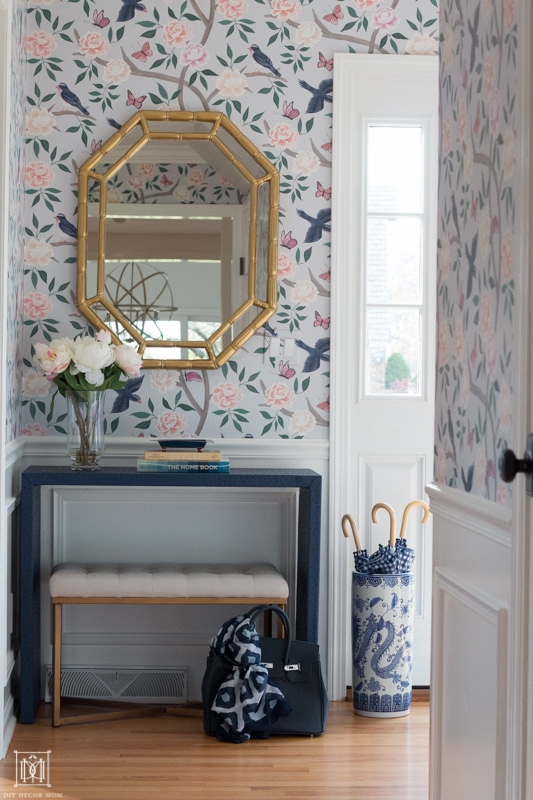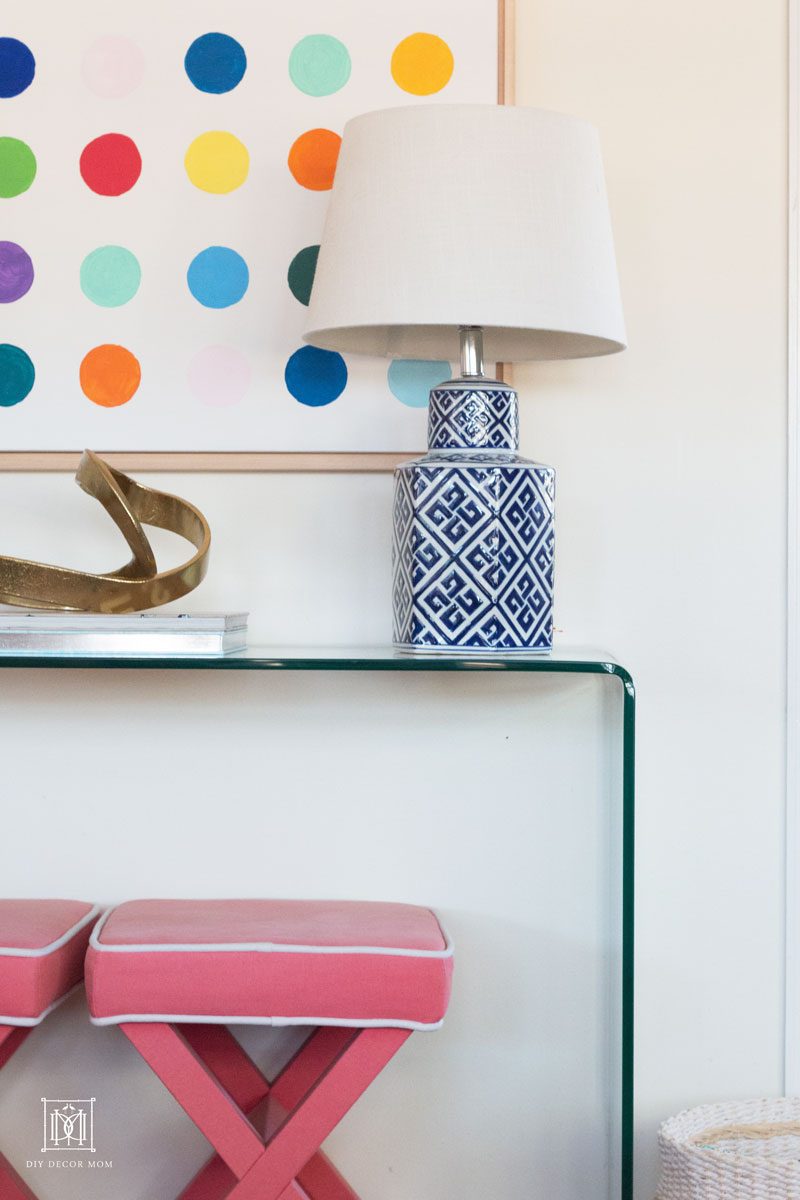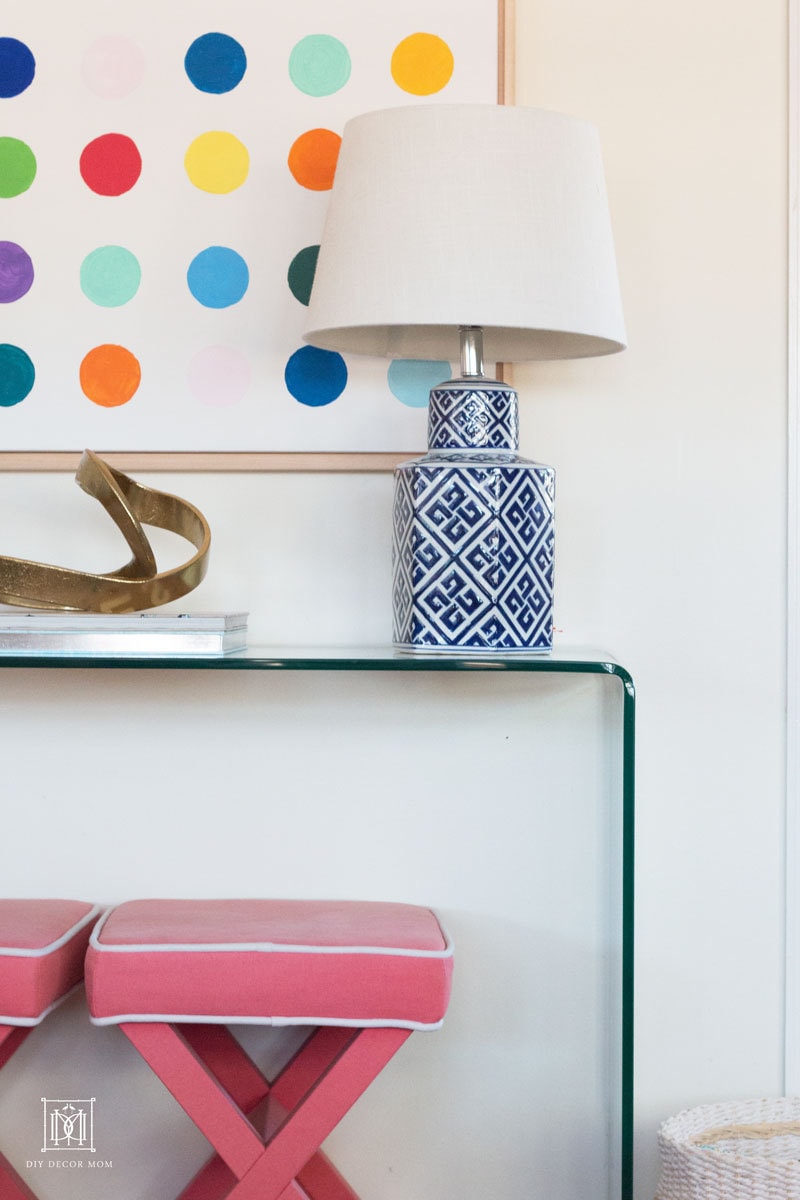 (See my tips Console Table Decor here)
Tip #3: Keep your colors and or color-matching "on brand"

Yes, I know this might come off as a weird tip–as most of you are not bloggers. But, this is something I have learned myself. There was too much going on in the top picture. By simplifying the color scheme to just blue, white, and gold and removing some of the objects, the effect is more relaxing and pulled together.
See my complete guide to mixing and matching fabrics and patterns here!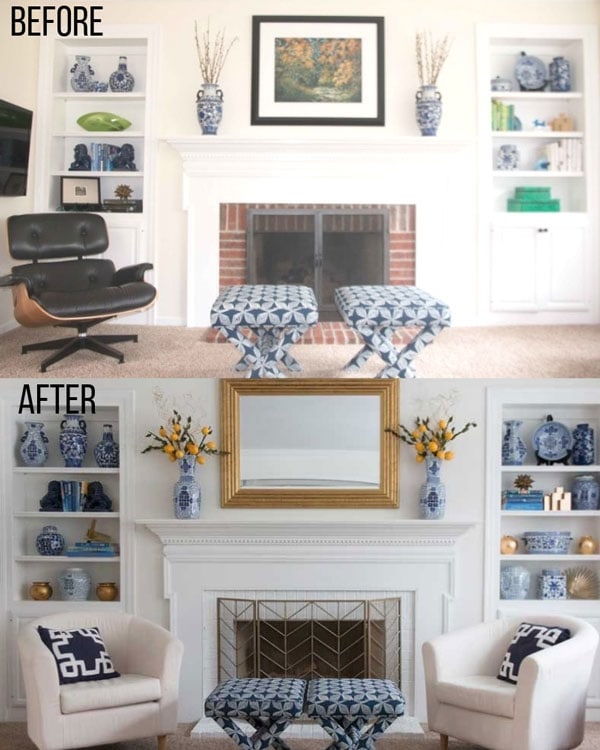 STYLING TIPS: USE SYMMETRY
You all know how much I love symmetry! Symmetry lets your brain relax and while I would never advocate buying complete sets of furniture, having a pair of items helps make your rooms look more cohesive. The best thing is that you don't have to spend a ton of money to get matching stuff–here are a few hacks to create symmetry when you don't have it!
Tip #1: Use paint to update furniture and create pairs! See my tips on painting furniture here. I've painted most of the furniture in our house at this point and it's saved us tons of money!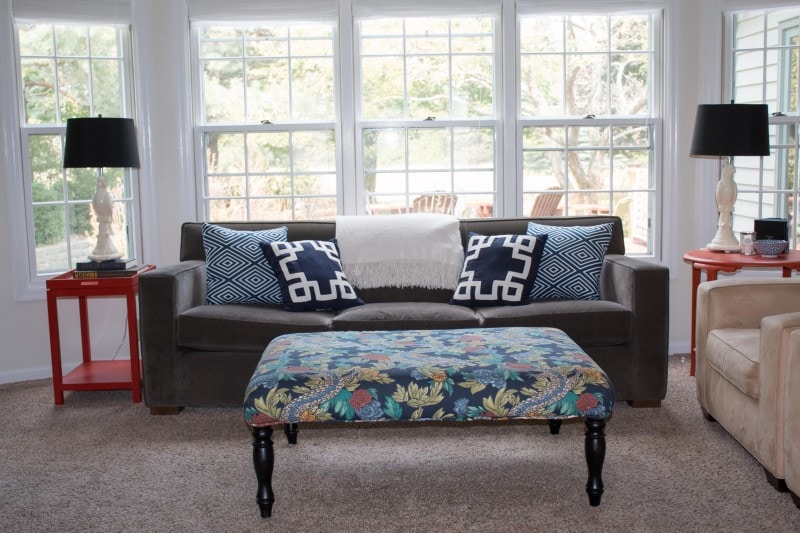 Tip #2: Use stacks of books to get lamps to be the same height.

Although our lamps are the same ($15 a piece HomeGoods find), they didn't look right on the different tables because they were different heights. To make them the same height, I used a stack of books on the shorter table to bring the lamp up to the correct height.
Want some more tips on interior design and decorating your home? Make sure to check out all my DIY and Decor Posts by clicking on the titles below!