DIY Home Improvement Ideas: In the four years we've lived in our house, we've tackled a ton of budget-friendly DIY home improvement projects which have dramatically improved our home's value and appearance! If you want easy ideas to upgrade your home, check these DIY ideas out!
DIY HOME IMPROVEMENT IDEAS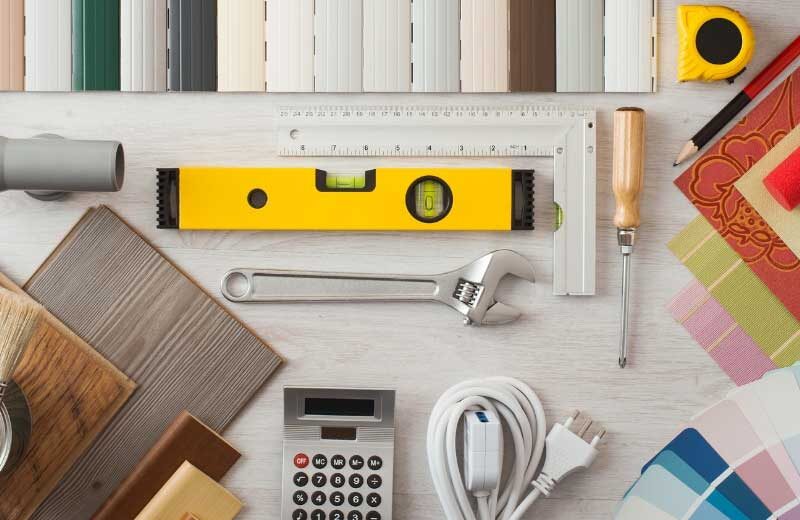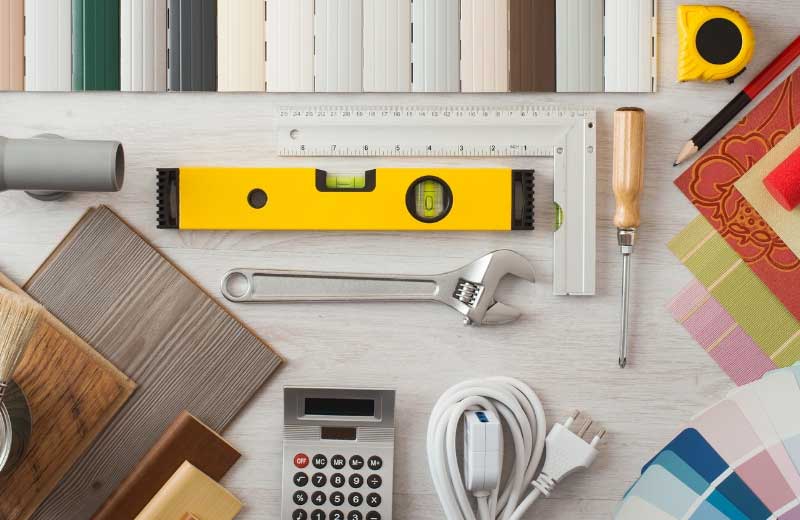 Like many people, we have a 1980s cookie cutter home. When we bought it, we loved it for exactly what it was…a blank canvas for decorating and its amazing location! We knew that down the line, we would be able to do more major renovations like redoing our kitchen and the baths. But, we knew that we could do a lot in the meantime to make it feel and look way better for cheap!
Most of the home was builder grade, so we were able to go room by room and improve it bit by bit on a budget! The most expensive room upgrade we have done was $1,200 which is insane for room makeover when you think of what designers charge!

If you want some DIY Home Improvement Ideas to make your home feel more polished, take a look at these projects! And make sure you download my Decorator's Cheat Sheet and my complete guide to Picking Paint Colors!

DIY HOME IMPROVEMENT PROJECTS
By adding architectural details to our home, we were able to upgrade our builder-grade home into a higher-end finish–and we were able to do it ourselves! In our neighborhood, there are several other colonials built at the same time; but, none of them feel like our's because we've upgraded the finishes! Check out how to do each of these architectural finishes below!
DIY WAINSCOTING: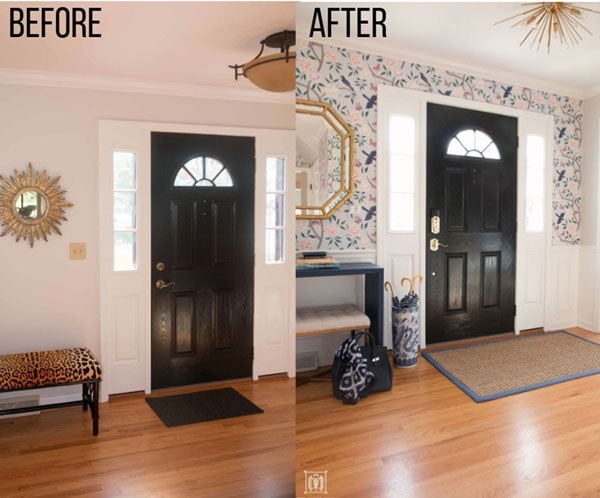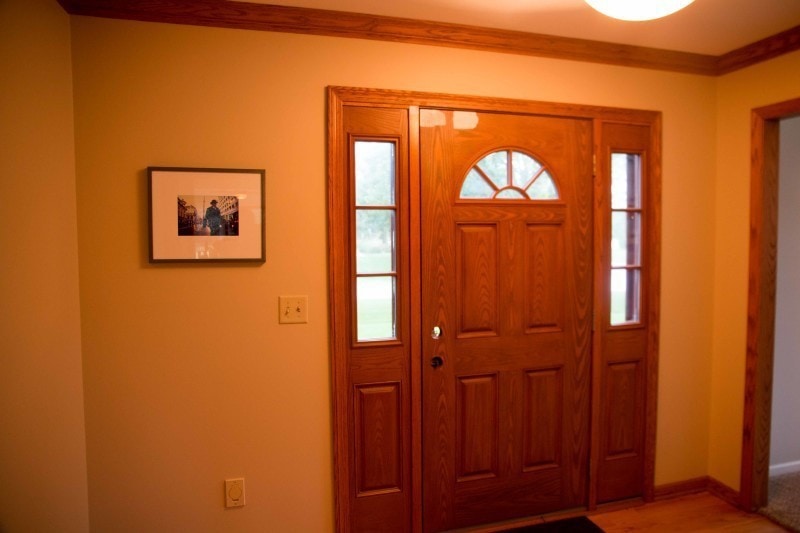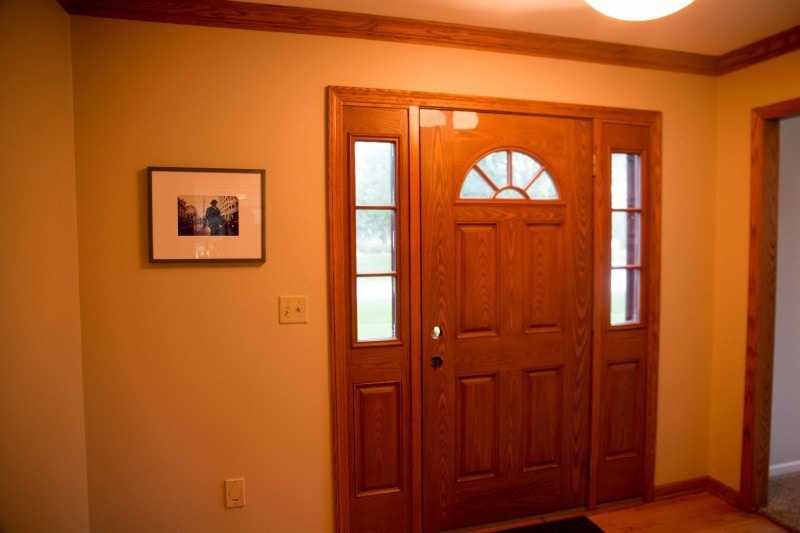 DIY Wainscoting Continued: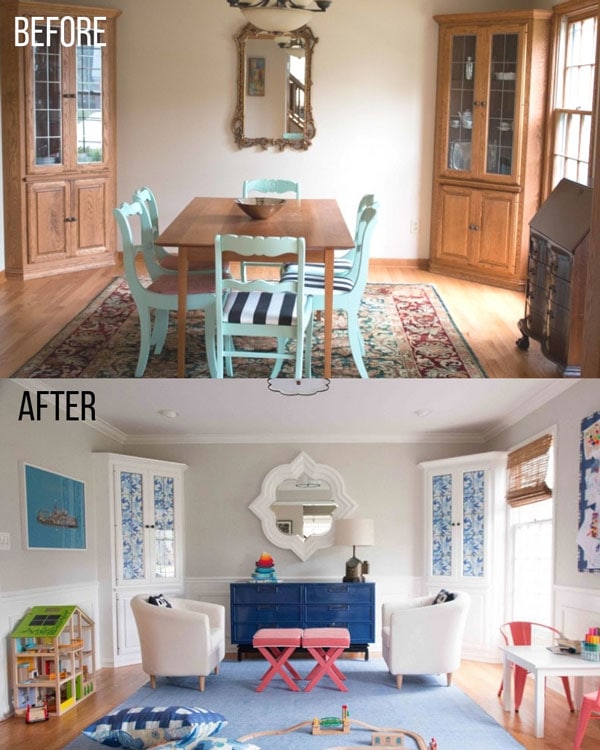 DIY BEADBOARD: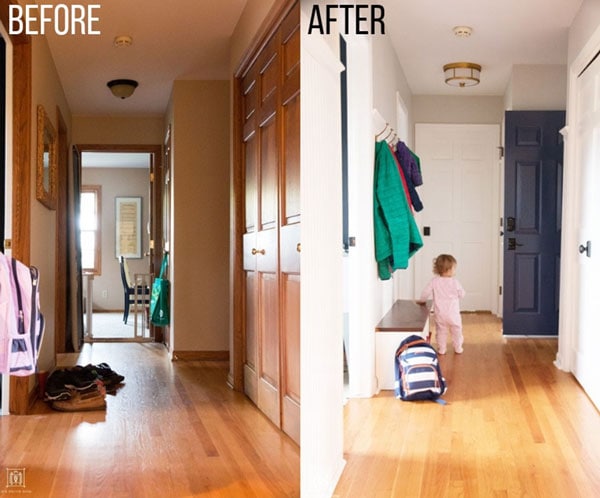 DIY BOARD & BATTEN: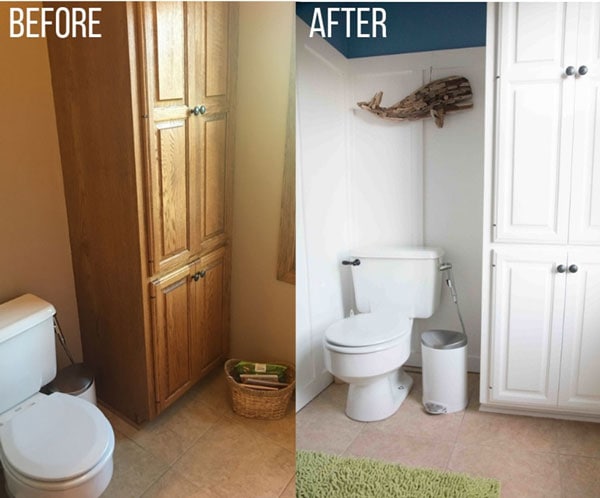 PAINT YOUR OUTDATED WOOD TRIM:
Wood trim is not for everybody–and all wood trim is not the same. A beautiful craftsman house with original trim would be destroyed by painting it all white. But a builder-grade 1980s house with inexpensive oak trim–paint it!
So many times, people are afraid to paint their wood trim. It might be their parents, or their grandparents admonishing them for even wanting to. But, I urge you to do what makes you happy! Our house is so much lighter and brighter after we painted all the wood trim and updated the paint colors.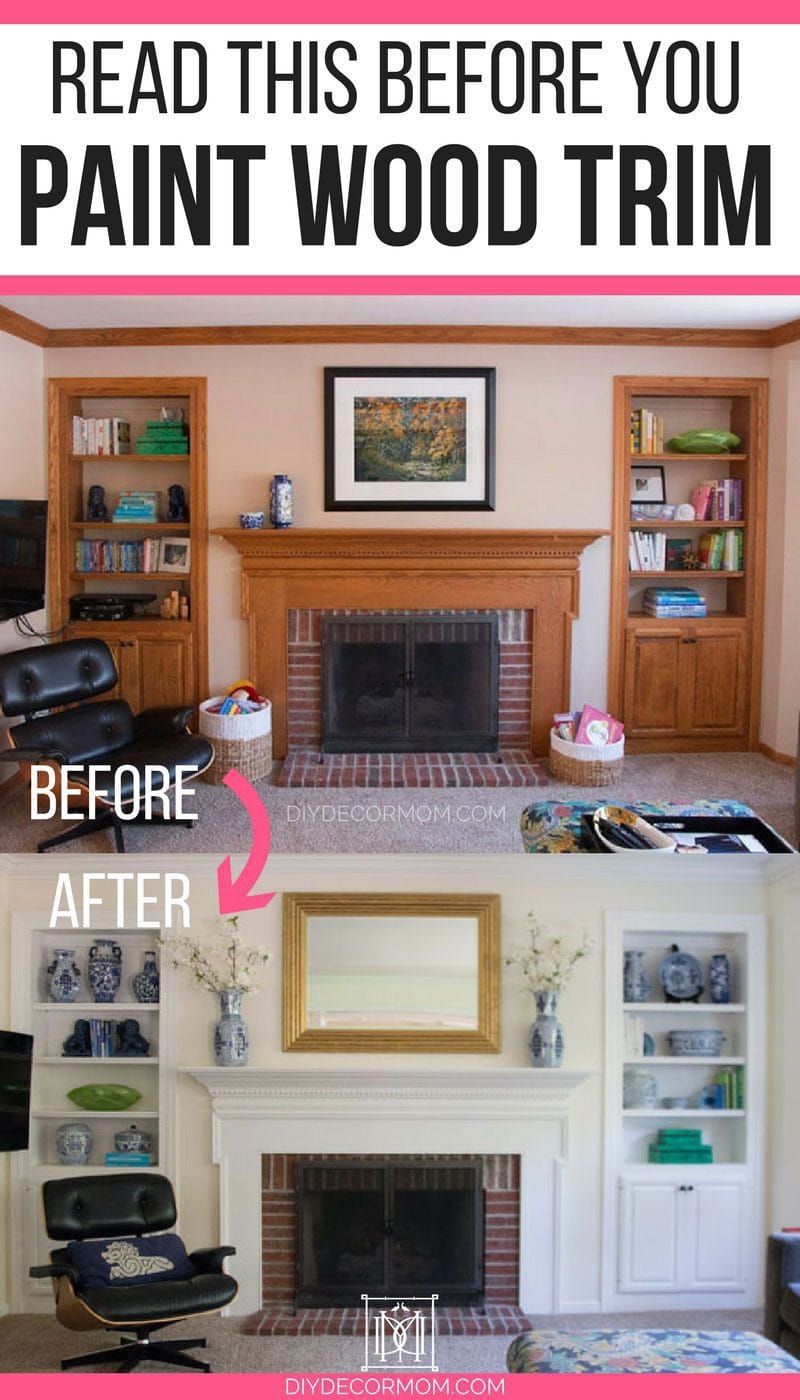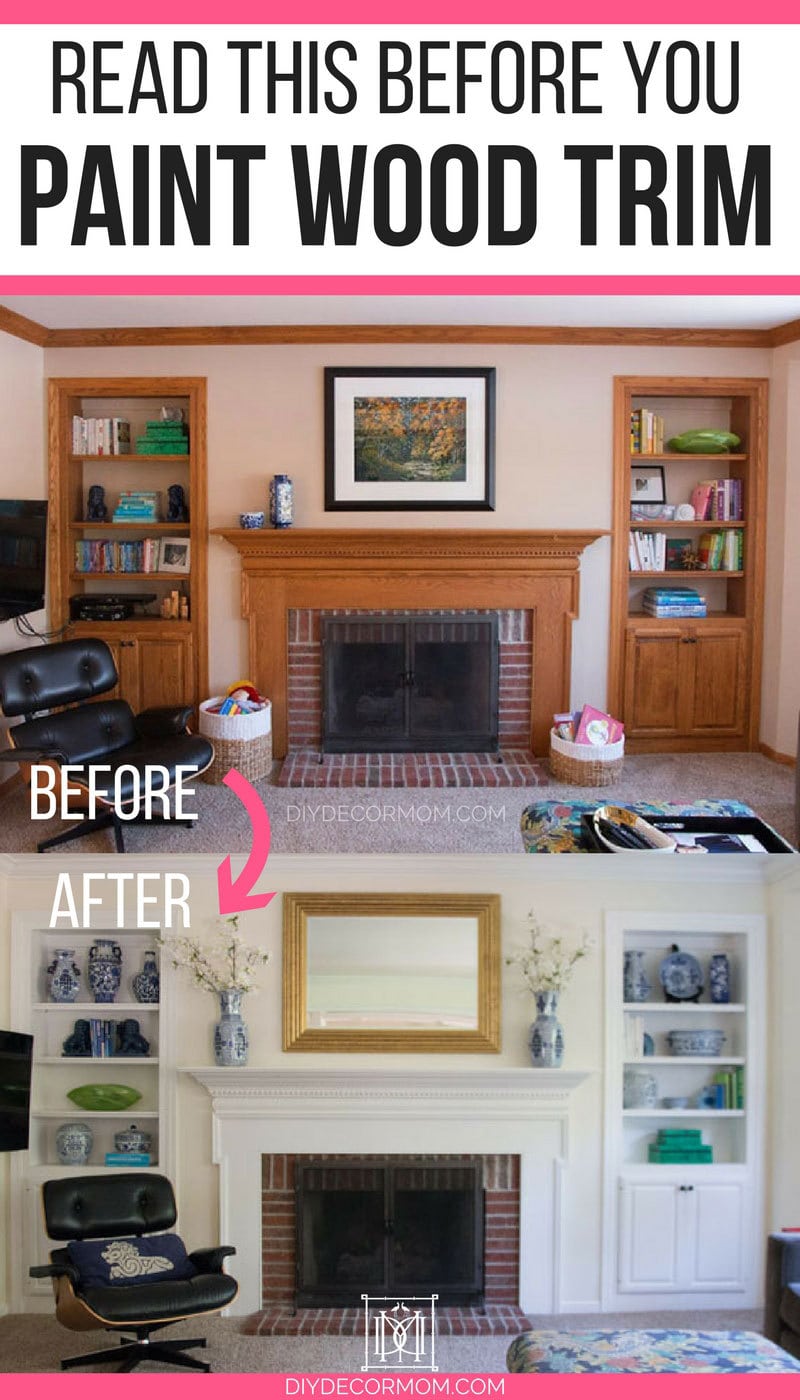 PAINT YOUR CABINETS:
If you want to learn How to Paint Bathroom Cabinets, follow the step-by-step tutorial and see how we did it! I go over everything you need to know: Benjamin Moore Cabinet Paint: Is It Worth the Money?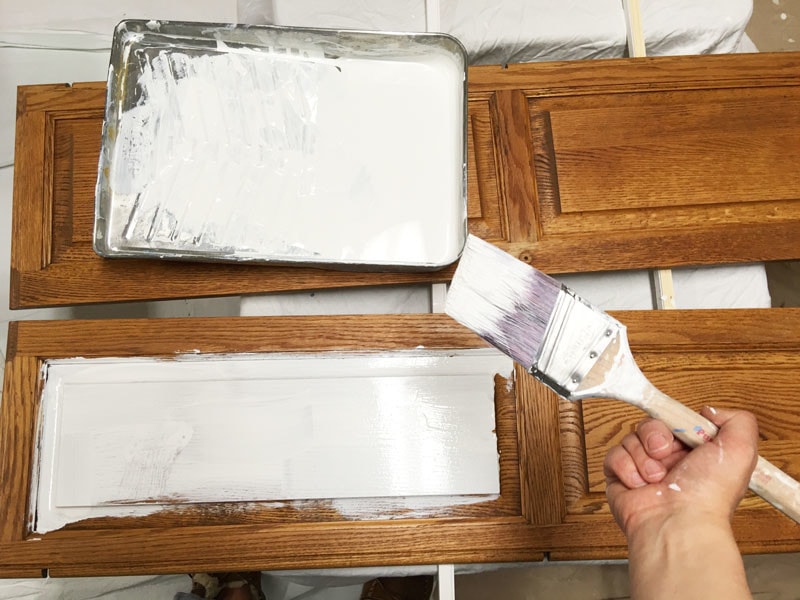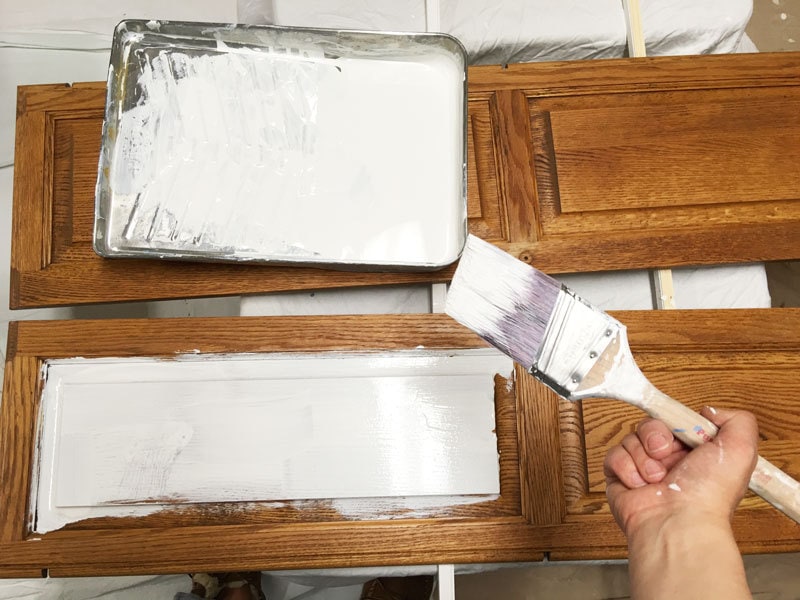 PICK A PAINT SCHEME FOR YOUR HOME:
Any realtor will tell you that the #1 improvement you can make before you sell your house is repainting the rooms (assuming that you are using neutral colors!)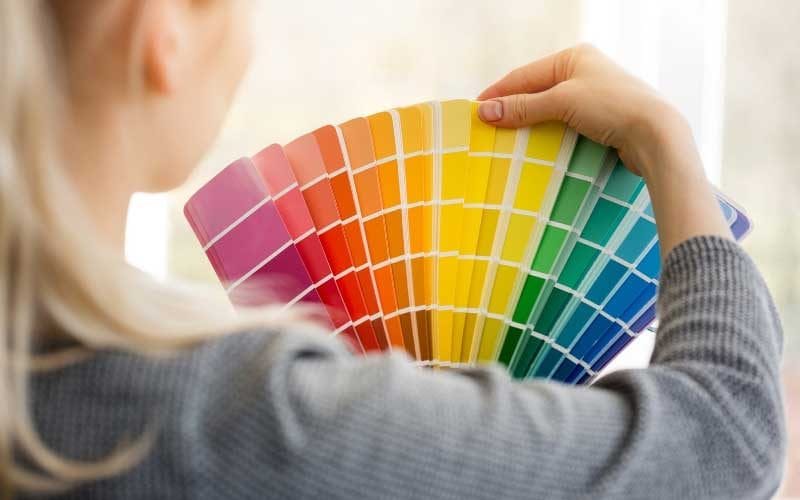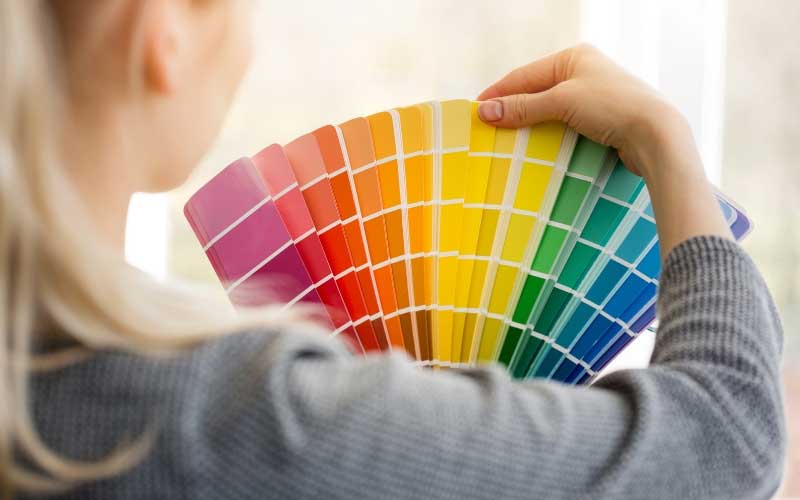 While, I don't subscribe to using only neutral colors, I do think that a neutral paint palette for your interior paint colors serves most houses extremely well. See how to pick out your whole house color scheme here plus the foolproof checklist I use when picking out paint colors!

UPDATE AND UPGRADE YOUR LIGHTING:
One of the biggest problems we faced in our house when we first moved in was that everything was dark. The walls were dark, the wood was dark, even the light fixtures were dark. It made for a very depressing feeling.
Room by room, we've gone through and upgraded and replaced most of our lighting fixtures which has made the biggest difference. Look at the difference when we replaced our ugly ceiling fan with a beautiful chandelier below!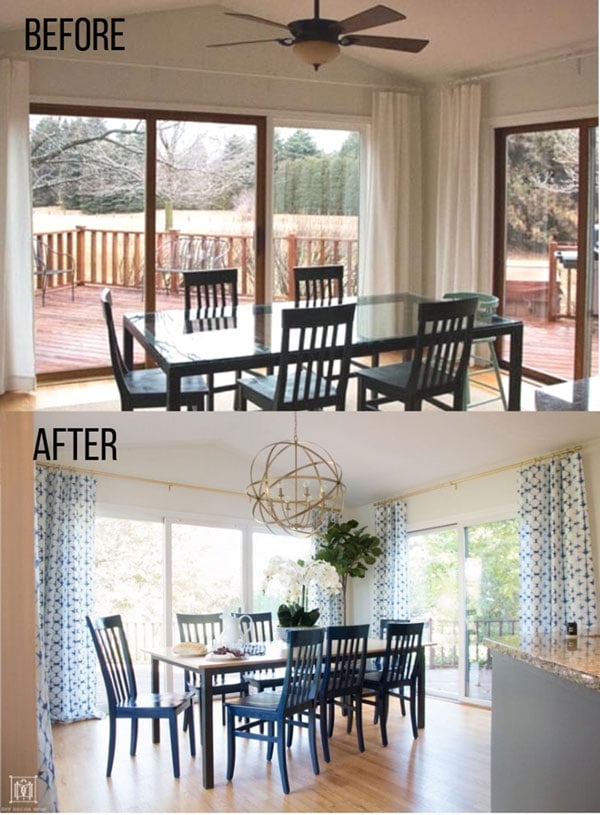 UNIFY FINISHES AND HARDWARE:
This DIY home improvement idea comes with a caveat–don't think you have to pick only one finish and use it throughout your entire house but I would stick to two in most rooms!
When we did our powder bathroom makeover the first time, we only had money to replace the lighting and not the actual sink, faucet, and toilet (we had a $600 budget!) So we installed a free chrome light fixture.

Related: Bathroom Decorating Ideas on a Budget
Two years later, we were lucky enough to partner with Build.com and install a new Kohler toilet and a new sink complete with chrome finishes which completely changed how the room looked (and functioned!) (If you have a small bathroom and want it to look larger click here to read!)
We also recently replaced all the outdated shiny brass door hardware and handles with oil rubbed bronze (all except that door in this picture–we did that the next weekend! Room by room, my husband has replaced all the door hardware in our house. Now it house feels updated and upgraded!
ADD CURTAINS AND WINDOW TREATMENTS:
This is one of the easiest things to fix that most people forget about! By adding functional and pretty window treatments, you can completely change how your home functions and looks!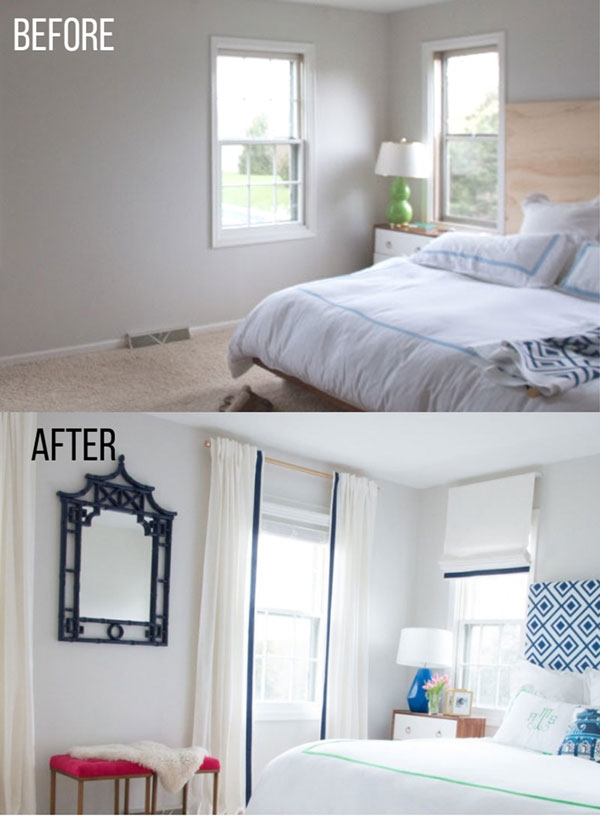 REPLACE BEIGE OUTDATED ELECTRICAL OUTLETS:
Do you know what screams 1980s? Beige light switches and outlets on every wall! Slowly but surely, we've replaced most of the electrical outlets and light switches in our house. Since I am no electrician, and we DIY our own electrical work, I won't give you any specific recommendations here, but I will say it's money well spent to have updated outlets!
ADD A WALLPAPER ACCENT WALL: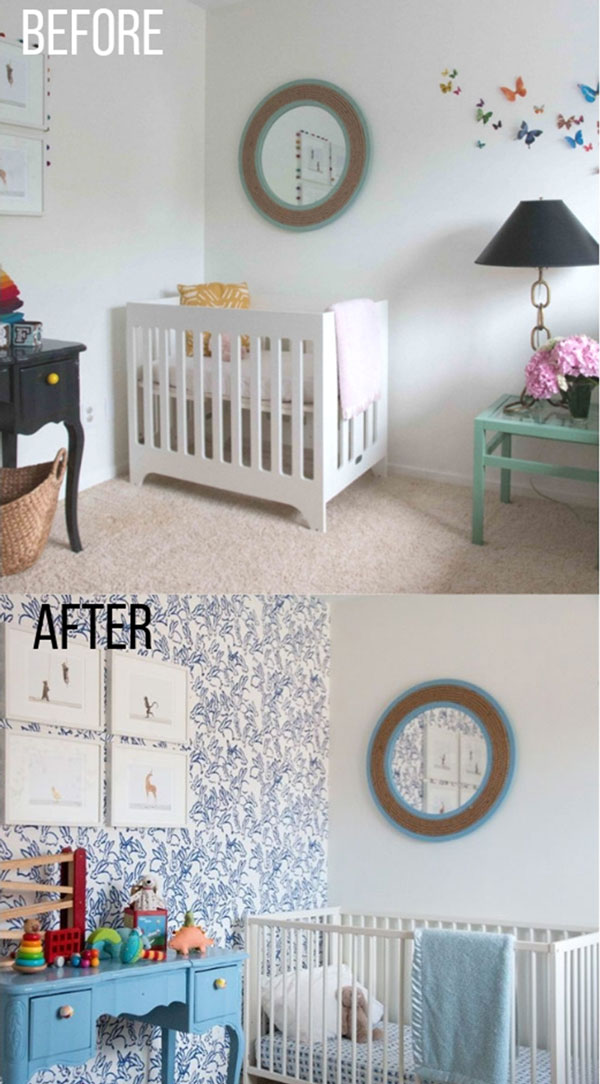 DIY HOME IMPROVEMENT
The secret to doing DIY home improvement projects in your house is taking it project-by-project. Although I've listed 11+ home improvement ideas above, you'll want to concentrate on one project at a time. That's what we've done–and it's allowed us to make over 80% of our house in four years on a budget (while also growing and raising four children under six years old!) We work on one room or one project a time on the weekends, and invest our time and money wisely.
By doing it ourselves, we've saved thousands of dollars and were able to use the little money we did have to improve our house's value. In the short time we've lived in our house, we've seen a huge return.
If you're interested in decorating your house and making it look more expensive, then make sure you download my Decorator's Cheat Sheet! It has all the measurements you need to decorate your house!

Check out all of our favorite DIY Projects here, and my recommendations on How to Paint Here!