Kitchen Cabinet Colors: Here are the best paint colors for kitchen cabinets and islands from interior designers whether you want to paint your kitchen cabinets white, green, blue, or gray kitchen cabinets, I've listed the best foolproof colors and shared real homes!
KITCHEN CABINET COLORS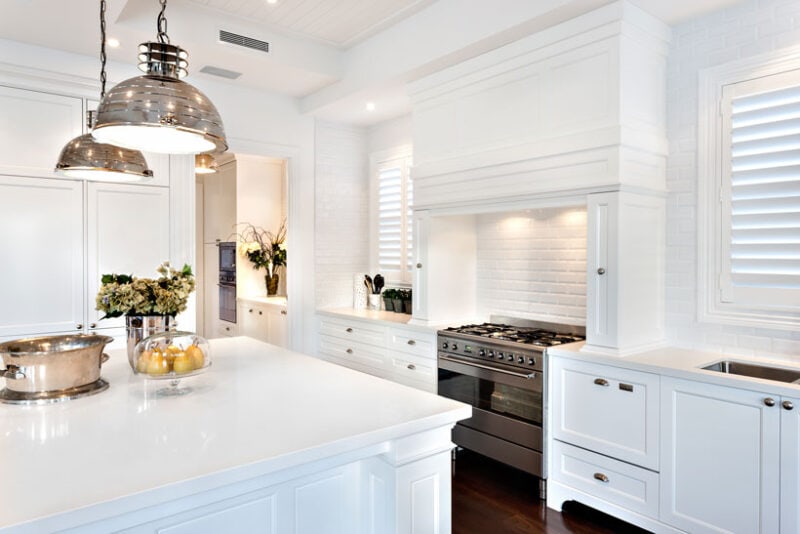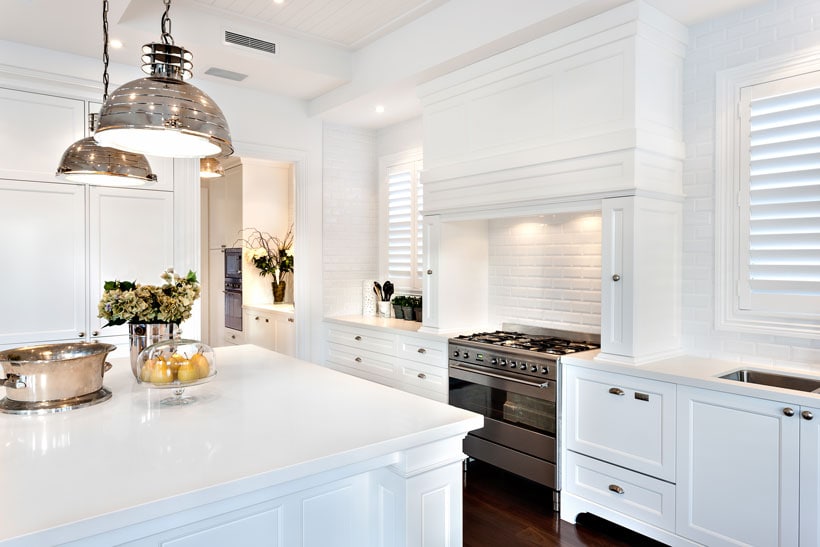 Before you decide what color of paint you want, you want to make sure to use the right type of paint. My preferred paint for cabinets is Benjamin Moore Advance Paint (I go into why you want a cabinet paint here: Is Benjamin Moore Cabinet Paint Worth the Money?)
Then, you can decide what paint color you want. Below, you'll find specific paint color suggestions from Benjamin Moore and Sherwin-Williams for each paint family. But it's up to you to decide what color family you want.
In this post, we'll cover:
Best White Paint Colors for Cabinets
Gray Paint Colors for Kitchen Cabinets
Best Light Blue Paint Shades for islands and kitchen cabinetry
Navy Blue Paint Tones for Cabinets
Green Paint Colors for Cabinets
Best Black Paint Colors for Cabinets
Paint Cabinet Color Trends
*This post contains affiliate links at no cost to you. See my complete disclosure policy here.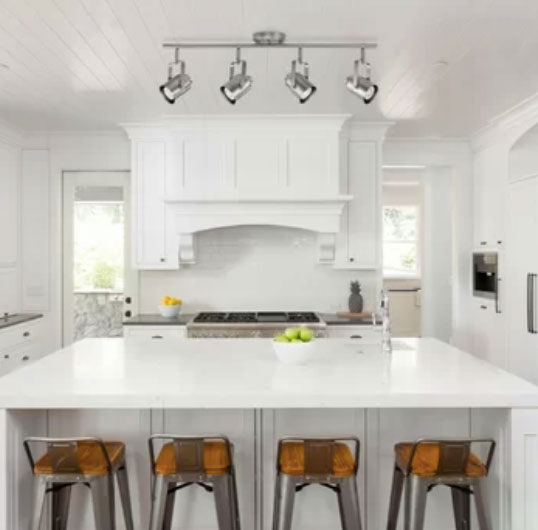 SHOP THE ROOM
Deciding Cabinet Colors:
Picking out a kitchen cabinet color is a big investment whether you are painting them yourself (time investment) or hiring it out (money). So make sure you go through the following steps before you paint them–because no one wants to have to repaint their cabinets!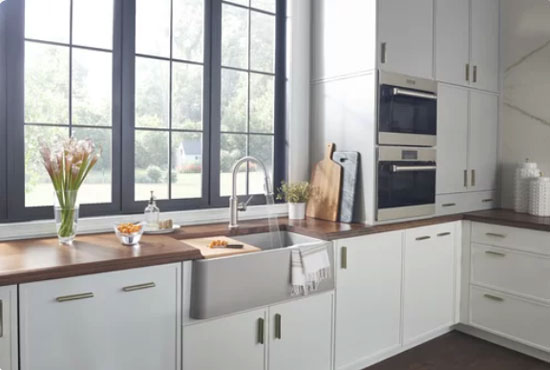 SHOP THE ROOM
Step 1: Do Your Research
Look at images online with the desired paint shades noticing the combination of kitchen hardware, backsplashes, and flooring.
Questions to ask yourself:
Are you drawn to a certain combination of paint colors and hardware?
What is the countertop material? Are you able to replicate that in your own home?
What is the flooring choice?
Related: See the Best Trim and Baseboard Colors Here.
Step 2: Get Paint Samples
Now, it's time to go to the paint store (or order them online) and bring them home. Jot down the list of the top paint colors in the paint family you have chosen. Bring home paint chips and put them up against your trim, your floors, your countertops, and any hardware you will be using.
Step 3: Test Out the Samples
With such a big investment, you want to either make a large sample or buy one. Look at the large sample in a variety of lighting conditions and stand it up on the wall next to the floor. Orient your paint sample in the same orientation it will normally be (to replicate lighting situations.)
Related: How to Paint Your Cabinets (Without Sanding) and Save Money!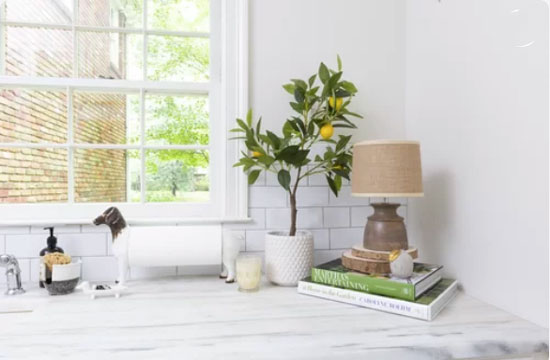 SHOP THE ROOM
WHITE PAINTS FOR CABINETS:
White cabinets will always be in fashion and are your safest bet if you want a lasting kitchen. If you have white trim in your kitchen, you'll want to match your kitchen trim (or repaint it) to match your cabinets for a cohesive look.
DESIGN TIP: Match your white painted cabinets to your white trim for a clean look!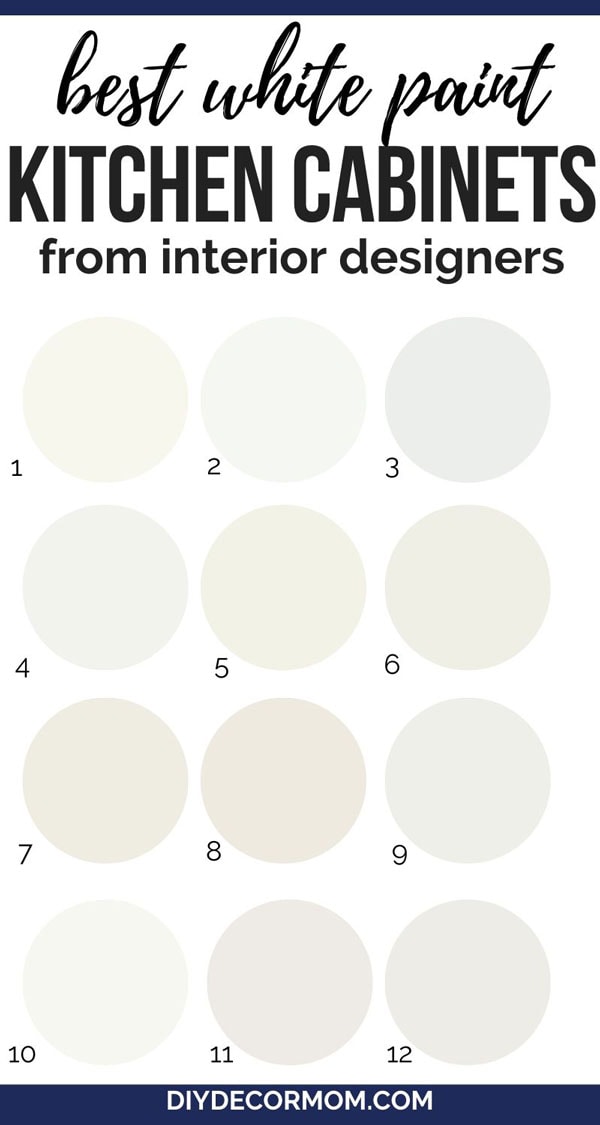 1- BM Simply White/ 2- BM Chantilly Lace/ 3- BM Decorator's White/ 4- BM Super White/ 5- BM Cloud White/ 6- BM White Dove/ 7- BM Swiss Coffee/ 8- SW Alabaster/ 9- SW Extra White/ 10- SW High Reflective White/ 11- SW Snowbound/ 12- SW Pure White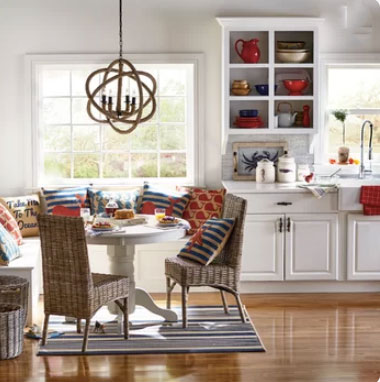 SHOP THE ROOM
Benjamin Moore and Sherwin-Williams White Paints:
BM Simply White
BM Decorator's White
BM Super White
BM Swiss Coffee
Sherwin-Williams White Paint Colors for Cabinets:
SW Alabaster
SW Extra White
SW High Reflective White
SW Snowbound
SW Pure White
Related: How to Pick the Right White Paint Color
Cool White or Off-White Cabinets?
It surprises many people that white paint colors can have undertones. I cover this more in this article–How to choose the Right White Paint; but, basically there are white paint colors that run more bluish, and there are white shades that run more warm (like cream.) Depending on your style, you'll want to choose either a cooler or warmer shade of white.
In general, bluish shades tend to be more modern and warmer shades more traditional. But, both look good in a variety of houses.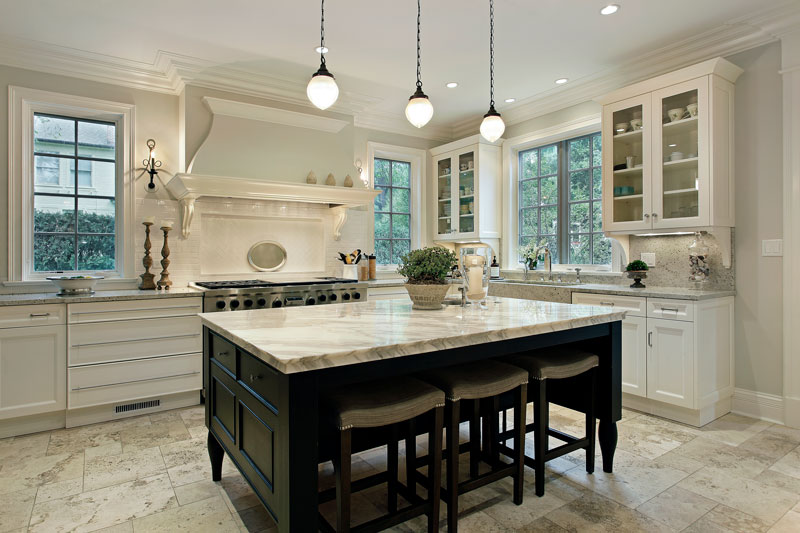 COLORS THAT GO WITH MARBLE:
Thinking of using marble or marble-like countertops in your kitchen? Then you'll want to make sure to check out the light gray and white colors below. These are the top recommended paint colors that complement the gorgeous tones of marble. Whether you are using calacutta marble or quartzite, you'll want to consider these paint colors.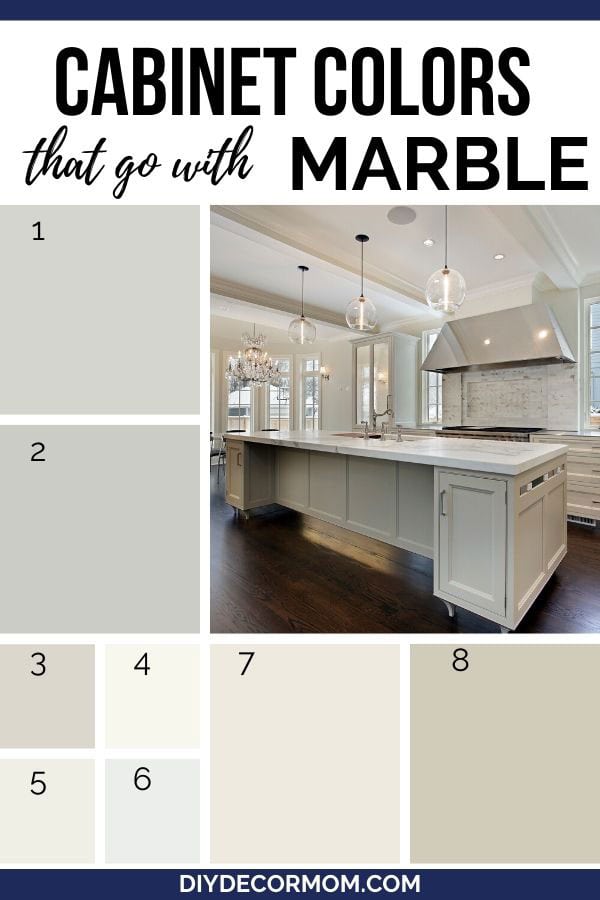 1- BM Gray Owl/ 2- BM Stonington Gray/ 3- BM Balboa Mist/ 4- BM Simply White/ 5- BM White Dove/ 6- BM Decorator's White/ 7- SW Alabaster/ 8- SW Ancient Marble
The Best Gray Cabinet Paint Colors:
BM Metropolitan
BM Amherst Gray
BM Coventry Gray
BM Chelsea Gray
BM Platinum Gray
BM Cape May Cobblestone
SW Silver Strand
BM Stonington Gray
SW Mindful Gray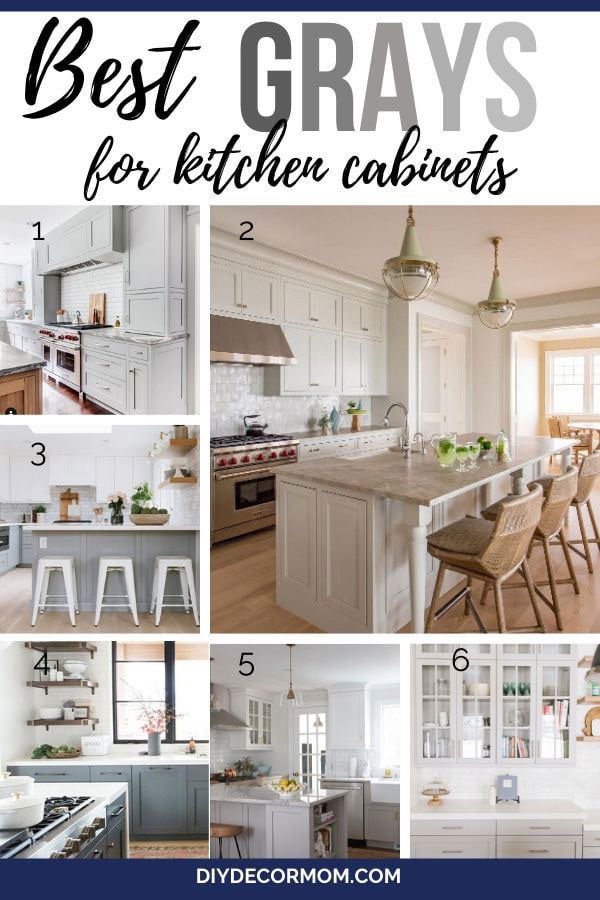 1- BM Stonington Gray via Instagram/ 2- BM Gray Owl via Homebunch / 3- BM Platinum Gray from Studio McGee/ 4- BM Chelsea Gray from Studio McGee/ 5- BM Cape May from from Erin Gates / 6- SW Mindful Gray from House of Jade Interiors
Cool or Warm Gray Paint for Kitchen Cabinets?

Gray paint colors run the spectrum from dark to light, and from cool to warm. Depending on the general aesthetic you are looking for, you will find different color recommendations. Light gray paint colors are generally more forgiving with dust; while, dark ones will show all dust and dirt (that's not dark.)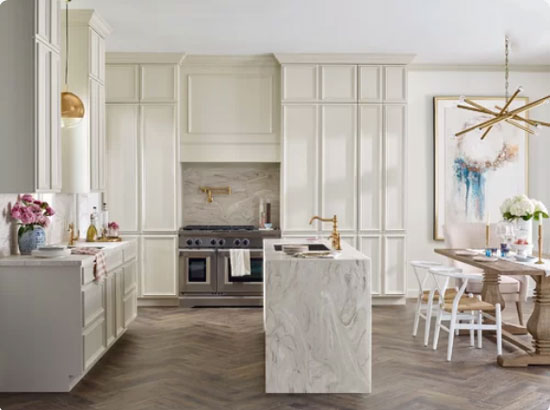 SHOP THE ROOM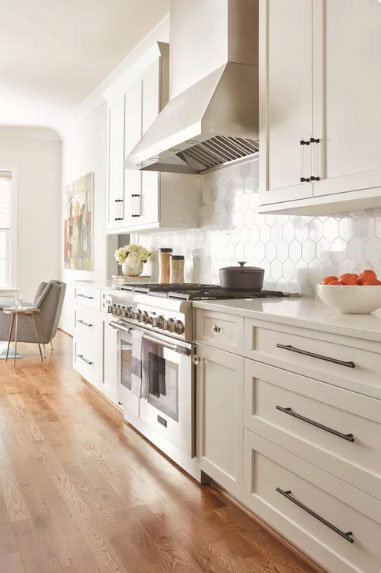 SHOP THE ROOM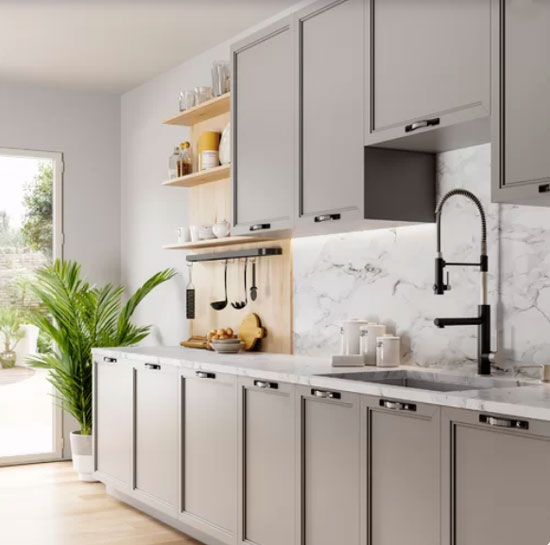 SHOP THE ROOM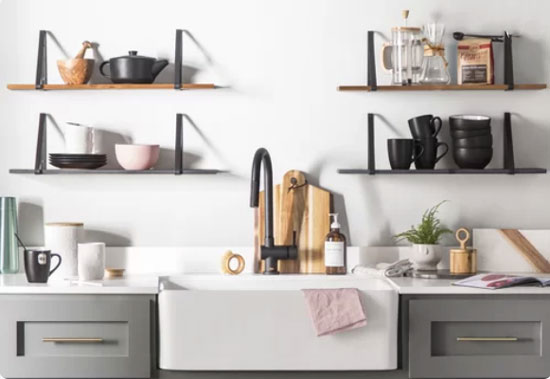 SHOP THE ROOM
BEST LIGHT BLUE KITCHEN CABINET COLORS:
Benjamin Moore Kentucky Haze
BM Blue Ice
BM New Hope Gray
BM Providence Blue
Farrow & Ball Herrington Blue
Farrow & Ball Parma Gray
Related: 25+ Blue-Gray Paint Colors That Look Good Anywhere
Light blue is the "it" color of 2020 for kitchen cabinets and islands. Replacing navy blue cabinetry, light blue cabinets have been popping up and brightening kitchens, mudrooms, and bathrooms for years. Below, are several of my favorite light blue kitchen cabinet colors. You can see it works with a variety of styles from modern to traditional.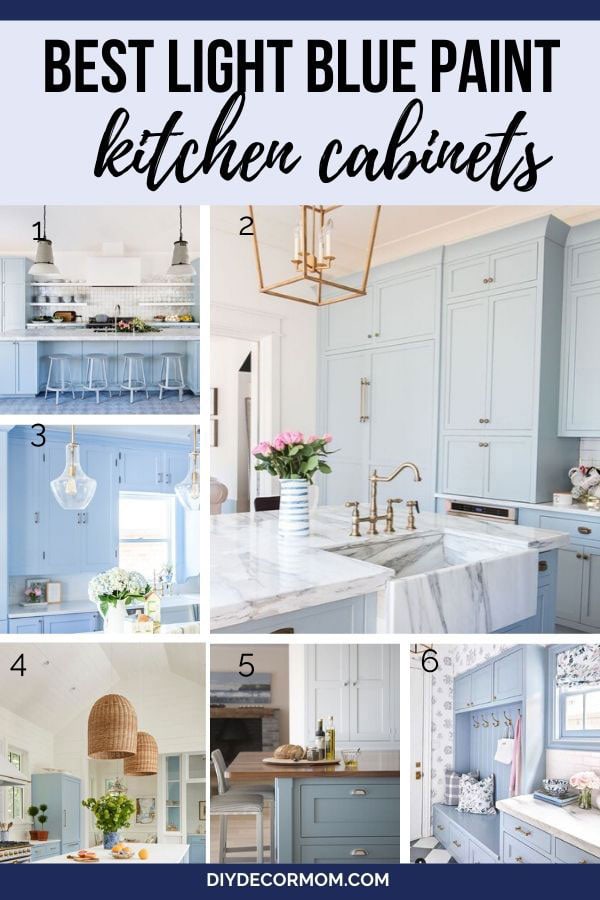 1- BM Kentucky Haze via Domino/ 2- custom mix 50% SW Stardew and 50% SW Uncertain Gray by Addison's Wonderland / 3- BM Blue Ice from At Home With Ashley/ 4- FB Parma Gray from Gal Meets Glam/ 5- FB Herrington Blue by Perring Properties/ 6- BM New Hope Gray from Caitlin Wilson Design
One thing to consider when picking out a light blue paint for kitchen cabinets is finding one that has a lot of gray in it. You can see how the bluish-gray paint in the kitchen below looks lovely with the gray grout and trim. The more gray in a light blue paint color, the more it will tie in with natural material countertops and floors.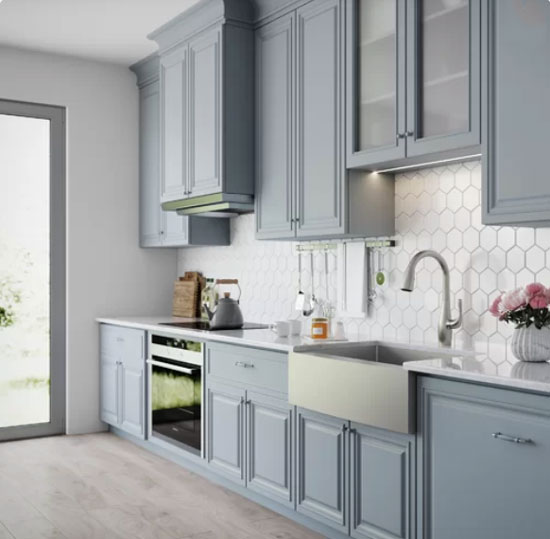 SHOP THE ROOM
Another growing trend is natural wood or whitewashed kitchen islands and cabinets. You can see in the photo below that light blue wall cabinets complement this look and by using the same brass hardware, everything pulls together.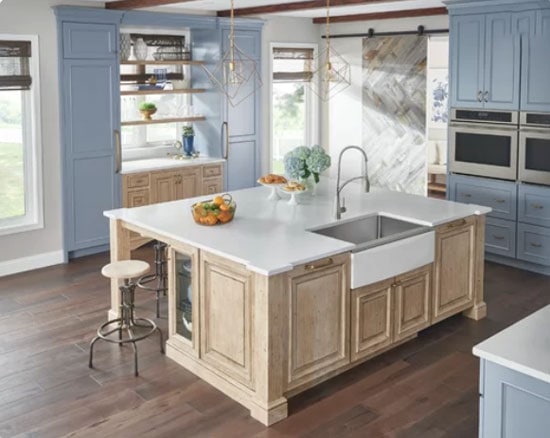 SHOP THE ROOM
Light blue cabinets allow you to bring in lots of other natural colors like the accent wood wall and the geometric patterned backsplash to the right.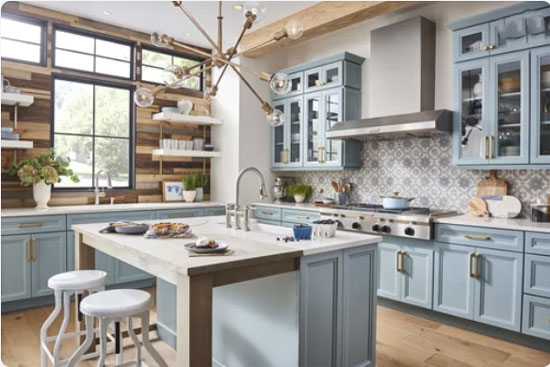 SHOP THE ROOM
NAVY CABINET COLORS:
Benjamin Moore Navy Paints:
BM Admiral Blue
BM Gentleman's Gray
BM Van Deusen Blue
Sherwin-Williams Dark Navy Blue Colors:
SW Commodore
SW Dress Blues
The best navy blue color options from Sherwin-Williams and Benjamin Moore are listed above. While they are are all "navy blue" there are varying amounts of green, black, and gray in it which will give you a slightly different finished product.
My two favorites are BM Hale Navy (what we used on our kitchen island) and SW Naval–shown in the kitchen to the right by Sherwin-Williams.
For a brighter blue, consider SW Dress Blues (it's what we used on our front door.)
Related: The Best Navy Paint Colors (and How to Choose)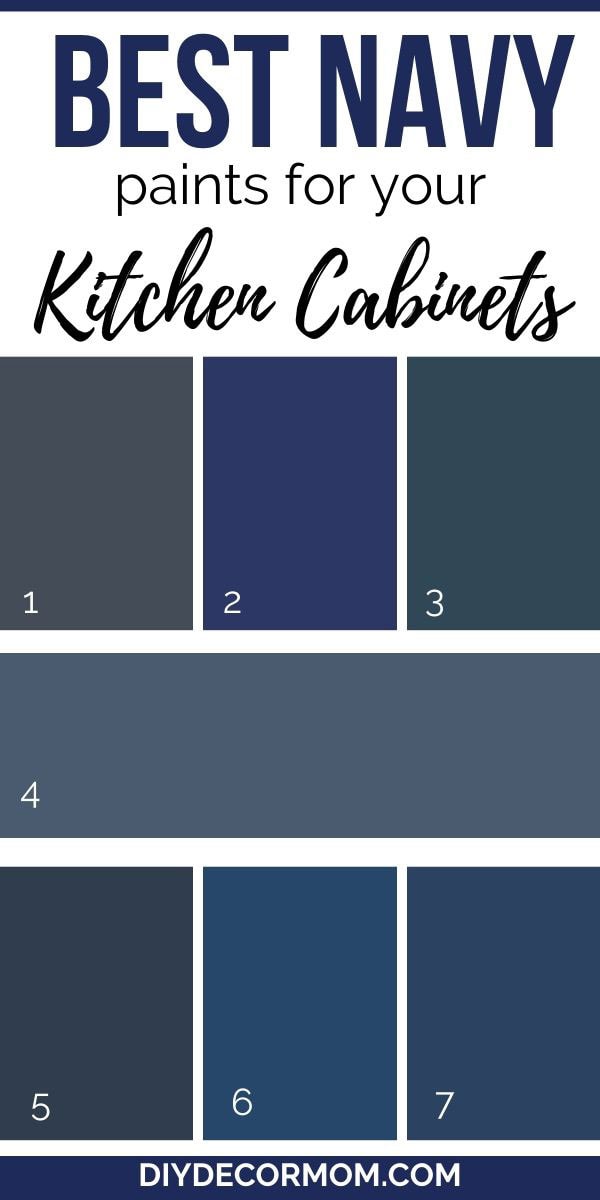 1- BM Hale Navy/ 2- BM Admiral Blue/ 3- BM Gentleman's Gray/ 4- BM Van Deusen Blue/ 5- SW Naval/ 6- SW Commodore/ 7- SW Dress Blues
Navy blue cabinets look stunning with a nice bright white countertop as shown below. Marbles or marble-colored quartzite look lovey with dark blues and are perfectly accented with brass kitchen hardware. While navy blue kitchen cabinets and islands have been "the hot thing" the last five or so years, I don't think the trend is over. Blue will always be in style–especially a gorgeous classic navy!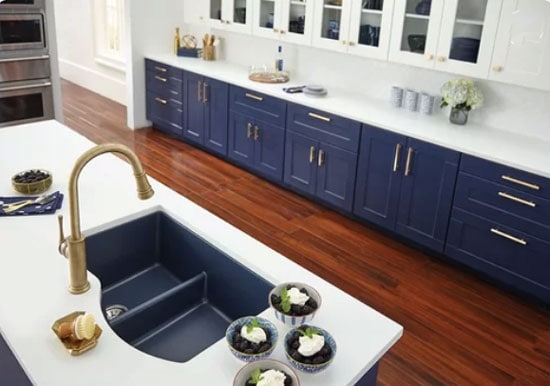 SHOP THE ROOM
GREEN PAINT COLORS FOR CABINETS:
Green paint colors and for kitchen cabinets have been increasing in popularity the last two years. This year's Paint Trends and Forecasts see a return to earthier green paint colors which are reflected in the paint colors listed below. On the whole, more sage colored greens are trending; however, you will continue to see true deep greens like BM Forest Floor and BM Deep Jungle (an emerald color) show up now and again. Minty colors are starting to resurface as well like BM Tea Light, and 2020's color of the year BM Chrystalline.
Benjamin Moore Green Paint Colors:
BM Forest Floor
BM Tate Olive
BM Forest Green
BM Deep Jungle
BM Jack Pine
BM Caldwell Green
BM Tea Light
BM Garden Oasis
Sherwin-Williams Green Paints:
SW Halcyon Green
SW Clary Sage
SW Thunderous
SW Pewter Green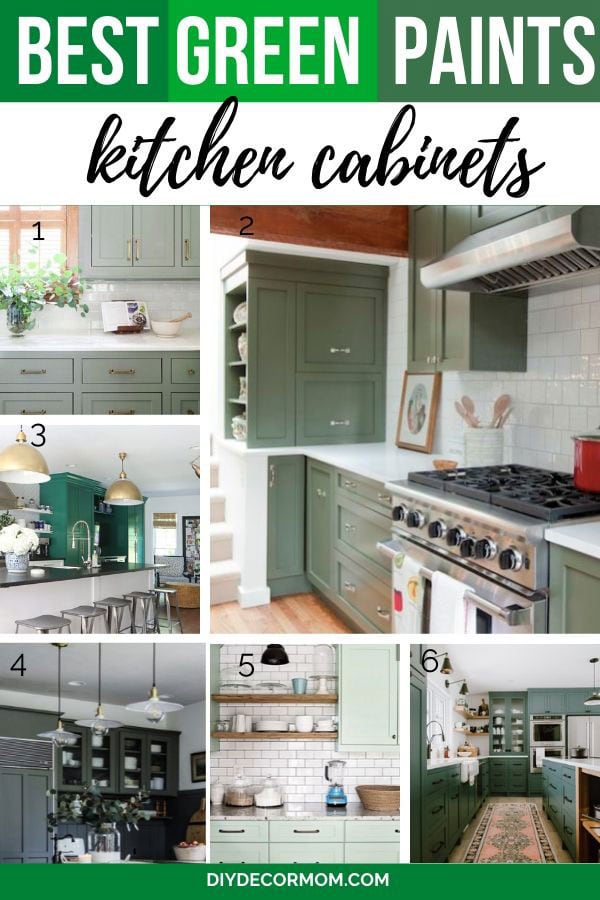 1- SW Clary Sage from Studio McGee/ 2- BM Forest Floor by Jillian Harris/ 3- BM Deep Jungle by Emily A. Clark/ 4- SW Thunderous by Chris Loves Julia/ 5- BM Tea Light (source unknown) / 6- BM Jack Pine from Jaclyn Peters Design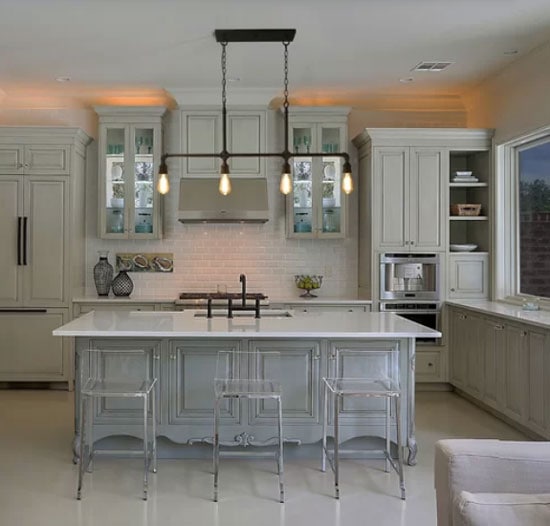 SHOP THE ROOM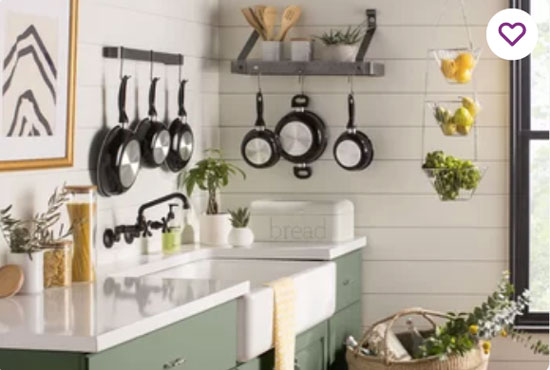 SHOP THE ROOM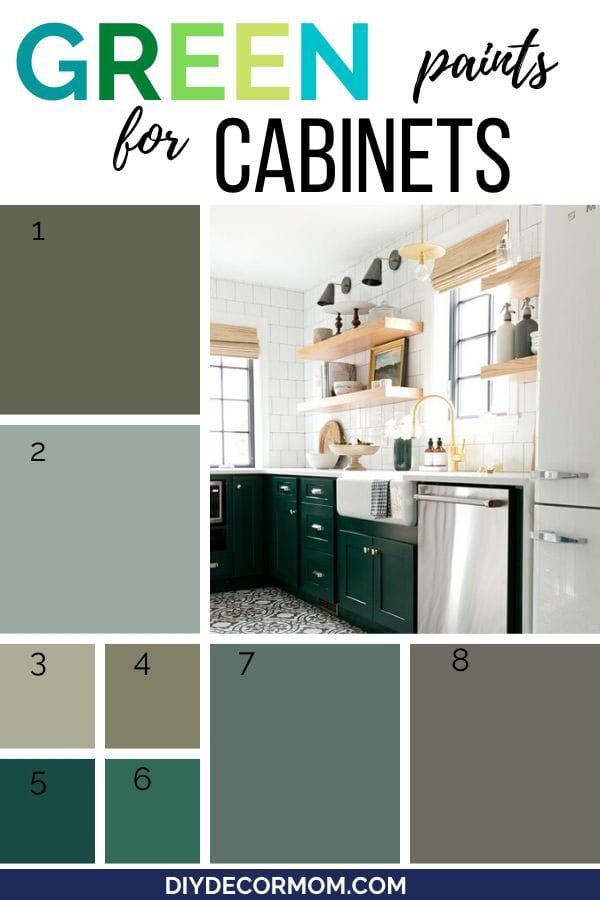 Studio McGee BM Forest Green kitchen in graphic / 1- BM Forest Floor/ 2- SW Halcyon Green/ 3- SW Clary Sage/ 4- BM Tate Olive/ 5- BM Forest Green/ 6- BM Deep Jungle/ 7- BM Jack Pine/ 8- SW Thunderous
Best Black Cabinet Colors:
Black cabinets saw a huge spike in popularity between 2008-2017 and they will continue to be in style. Unlike say, orange cabinets, black is a classic color and goes with everything! Like white and gray, black cabinetry will always look good.
But, if you thought that black is just black, I have to tell you that there are many shades of black. Below are ones we have used in our own house and are designers' favorites to use in their own kitchens. There can be a lot of variety between different blacks. We have used BM Onyx (which has a lot more gray in it, and BM Jet Black when we wanted a real dark black.) As always, get your paint samples and put them next to your tile, your backsplash, your floors, and your countertops.
BM Onyx
BM Jet Black
Farrow & Ball Down Pipe
Farrow & Ball Off-Black
BM Black Horizon
BM Cheating Heart
SW Tricorn Black
SW Green Black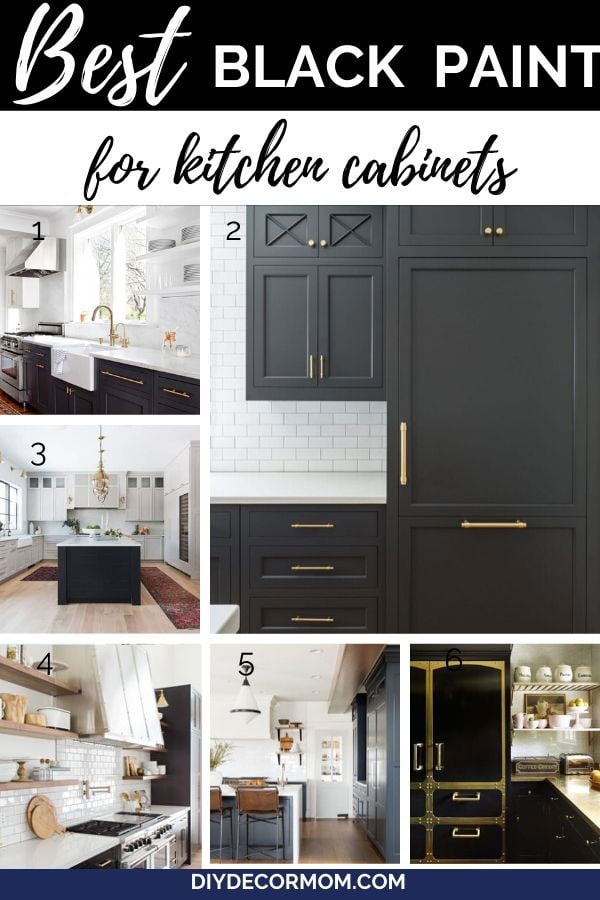 1- FB Down Pipe via design by Jennifer Hughes / 2- BM Cheating Heart by The Fox Group/ 3- BM Black Horizon by M House Development / 4- SW Tricorn Black from Studio McGee / 5- SW Green Black from Studio McGee/ 6- BM Onyx Bailey McCarthy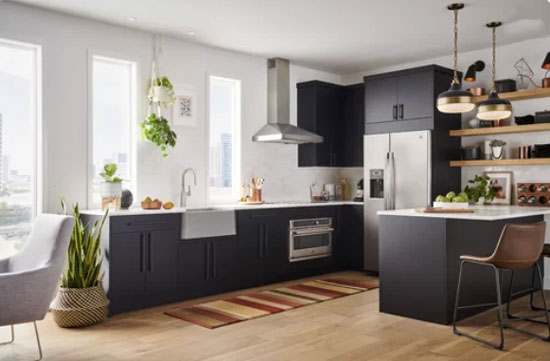 SHOP THE ROOM
In conclusion, picking a paint color for your kitchen cabinets is a huge decision–but it doesn't have to be hard. Decide on the color family you want, jot down these paint colors, go to the paint store and get samples. Then put them up with your other selected surfaces and design elements. You'll have a good idea of what is the perfect color for your kitchen cabinets!
And don't forget to get the right type of paint for your kitchen cabinets!
You'll also love: